'Adventurous' red kite poisoned in East Ayrshire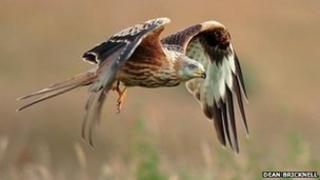 A bird of prey described as "one of north Scotland's most adventurous red kites" has been found poisoned by a banned pesticide.
The bird had a satellite transmitter fitted to its back shortly after fledging on the Black Isle this summer.
RSPB Scotland became worried when it remained near Muirkirk, East Ayrshire, for several days in September.
Its carcass was later found close to the Muirkirk and North Lowther Hills special protection area of moorland.
'Latest incident'
Tests carried out at a government laboratory showed it had been poisoned by a banned pesticide.
RSPB Scotland investigations officer Ian Thomson said: "The poisoning of this red kite is just the latest incident of bird of prey persecution in and around the special protection area, particularly involving hen harriers and peregrines.
"The populations of hen harrier in particular are declining alarmingly in this area. Only a few years ago there were 21 pairs of hen harriers in the area - now we are down to a mere handful."
Anyone with information about the incident is urged to contact Strathclyde Police.