Illegal staff hid in loft of Motherwell restaurant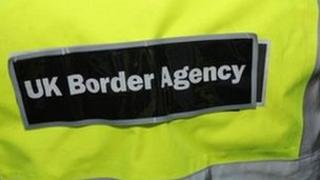 A restaurant is facing a second fine in 18 months for employing illegal staff after Chinese nationals were found hiding in a kitchen loft during a raid.
The UK Border Agency said three men and a woman were found at the Hup Lee Restaurant in Motherwell on Tuesday.
A 20-year-old man and a 29-year-old woman were arrested after they were found to have no permission to work.
The Hup Lee was fined £75,000 and closed for three months last year for employing 10 illegal workers.
Penalty notice
Following the raid, which included officers from Strathclyde Police, two other Chinese men, who are currently reporting to the UK Border Agency, were escorted from the premises.
The three men will have to report regularly to the agency and the woman was detained while steps are taken to remove them from the UK.
The business will now be issued with a civil penalty notice for employing illegal workers.
If its owners are unable to provide evidence that they carried out legally-requited checks before employing staff, they may be liable for a fine of up to £10,000 for each illegal worker.
Phil Taylor, regional director of the UK Border Agency in Scotland and Northern Ireland, said: "We will not tolerate illegal working which threatens to damage our communities - it undercuts wages and exploits vulnerable workers.
"The UK Border Agency will act on intelligence to target those businesses which ignore the rules and remove those with no right to be in the UK.
"This operation is part of an ongoing clamp down on illegal working in Scotland to reduce the attractiveness of the UK to illegal immigrants."