Council rejects plans for waterside town in Lanarkshire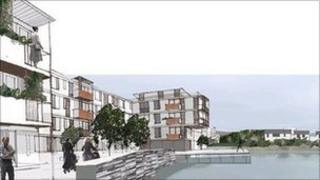 A developer has branded planning laws "farcical" after a council rejected proposals to build a new waterside town on former industrial wasteland.
North Lanarkshire Council's planning committee refused consent for Hazledene Group to pursue the £20m first stage of the project at Torbothie, near Shotts.
The firm's chief executive Mark Shaw said its plans were rejected following advice from council staff.
The authority said Hazeldene's proposal was contrary to the area's local plan.
The firm unveiled plans two years ago to build a £85m community at Torbothie around a man-made lake, known as the Voe.
The £20m first phase would have seen about 120 homes built with long-term plans for a pier, cafes and shops.
Derelict site
Further developments would have added more than 1,000 new homes, with the aim of transforming the largely brown-field, derelict site into a self-contained waterside community.
Hazeldene said at the time that the town would be built, as far as possible, by local builders and tradesmen, helping to reduce unemployment in the area.
Chief executive Mark Shaw said the plan was now in ruins after its rejection by council planners.
"We've just seen four years of hard work, consultations with council officials, the local people and their council representatives go down the drain," he said.
"Clearly, North Lanarkshire has no need for investment, jobs or community regeneration."
Mr Shaw said he had no further plans for investment in the area following the decision and criticised the planning process.
He said: "The process is farcical, and no attention was paid to the work we have done, the guidance we were given or the solutions proposed."
Shirley Linton, head of North Lanarkshire Council's planning and development, said councillors had backed a recommendation to reject the Hazeldene proposal.
She said: "The recommendation was based on a number of issues: the site is zoned as a rural investment area, and not for housing, within the existing adopted local plan and the finalised draft North Lanarkshire local plan."
Appeal possible
The were also concerns that access to new homes would be through an industrial area currently used by heavy lorries.
Ms Linton said this did not comply with roads guidelines.
She also cited concerns about noise from neighbouring businesses causing problems for residents in the new homes.
"The council has worked with Hazeldene Homes to provide advice on the planning process but their proposals did not effectively address the various issues raised by the planning policies to allow us to recommend approval of the application," she added.
Hazeldene now has the right to appeal the decision to Scottish ministers.