Ryan McCallum rape case hit by Cadder ruling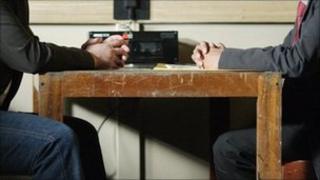 A man convicted of rape is having his case re-considered by the High Court because he was questioned by police without a solicitor present.
The Criminal Cases Review Commission said that in light of the Cadder ruling Ryan McCallum may not have had a fair trial.
In 2010 the Supreme Court upheld Peter Cadder's appeal against a conviction for assault in Glasgow.
It ruled interviewing suspects without a lawyer breached their human rights.
McCallum was sentenced to five years in prison for rape in June 2009.
Emergency legislation
His case is the first to be referred back to the High Court since the decision in the Cadder case.
Prior to the Supreme Court ruling, police could question suspects without allowing them access to a lawyer in the first six hours of arrest.
Following the decision, the Scottish government introduced emergency legislation to bring the country's rules into line with European human rights laws.
It was later revealed that 867 cases were abandoned, including 60 serious cases, in light of the Cadder ruling.
The High Court who will now decide whether McCallum's conviction will stand or be overturned, or they could decide to bring a re-trial.