MSP wants inquiry into Declan Hainey murder by mother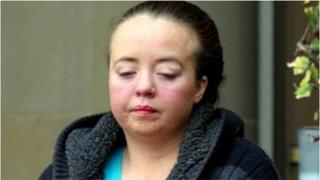 An MSP has called for an independent investigation into the death of toddler Declan Hainey who was left to die in his cot by his drug addict mother.
Kimberley Hainey was convicted of murdering Declan following a six-week trial at the High Court in Glasgow.
Labour MSP Neil Bibby wants the role of Renfrewshire Council and the local health board to come under scrutiny.
He said it was important to know how Declan's mistreatment and death could have gone unnoticed for so long.
Hainey's trial heard that Declan was last seen in public aged about 15 months around July or August 2009.
His body was discovered in his cot by police on 30 March 2010. Experts estimate he had been dead for months.
Left alone
Hainey claimed she had been a good mother but suffered a breakdown after finding Declan dead in his cot.
Her trial heard, however, that the child was left in dirty nappies with no food or drink while Hainey was out enjoying herself.
After he died, Hainey left his body in a cot to rot and sold his clothes and toys to buy heroin.
Declan was discovered months later by Hainey's family after they were told he had not turned up for immunisations at the GP's surgery and was going to be reported missing.
West of Scotland Labour MSP Mr Bibby said the child's "cruel and lonely death" had "shocked and saddened" the local community.
"People in Paisley are appalled by Declan's death and many people are asking me how this could happen," he said.
"I think that we need to look carefully at this case, identify the gaps and ask whether our information-sharing systems are working properly."
Mr Bibby said he would like to see police called in cases where social workers are denied access to a vulnerable child more than twice.
'Independent investigation'
He said it was important to "learn the lessons from this tragic case so that no other child either in Renfrewshire or Scotland suffers as Declan did".
"I am therefore calling on the Scottish government to establish an independent investigation into the handling of Declan's case by Renfrewshire Council and Glasgow and Clyde Health Board," he said.
"I am particularly keen to find out how Declan's mistreatment and death could be hidden for so long, even though services knew there were difficulties with Ms Hainey's abuse of substances.
"Questions also need to be asked, such as are our services coping with the growing demands that are being placed upon them, particularly in light of recent council cutbacks and the early retirement and redundancies amongst staff?"