Kimberley Hainey guilty of murdering toddler son Declan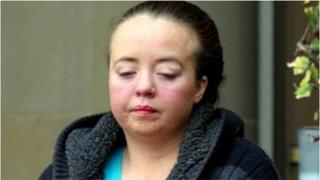 A woman has been convicted of murdering her toddler son, whose decomposed and mummified body was found at their rubbish-strewn home in Renfrewshire.
Kimberley Hainey had denied killing Declan at their home in Bruce Road, Paisley, and concealing his body.
But a jury at the High Court in Glasgow took just four hours to find the 37-year-old guilty by majority verdict.
Hainey faces a mandatory life sentence. The minimum term she must serve will be determined in the new year.
Hainey was also found guilty of attempting to defeat the ends of justice and of failing to attend appointments with staff from Renfrewshire Drugs Services. Both were by unanimous verdicts.
An allegation that Declan had been exposed to heroin and amphetamine was deleted.
'Monster mother'
Afterwards, Lord Woolman told jurors: "I appreciate that you have had no easy task and that some of the evidence was very distressing."
During Hainey's trial, the jury heard that Declan was last seen in public aged about 15 months around July or August 2009.
His body was discovered in his cot by police on 30 March 2010. Experts estimate he had been dead for months.
During her evidence, Hainey told the court: "I was branded a monster mother. It's not true. He was not murdered. He was not given drugs, I never did anything to harm my son. He was the most precious thing in my life."
The court heard that Hainey was drinking heavily and going out leaving Declan home alone.
On one occasion she was away for two days leaving Declan to fend for himself.
The child was left in dirty nappies with no food or drink while Hainey was out enjoying herself.
Toys sold
By the time his body was found - months after his death - pathologists were unable to ascertain how Declan died.
After the child died, Hainey sold his clothes and toys to buy heroin.
She left his body in the cot in his bedroom and left him to rot.
He was discovered months later by Hainey's mother, step-father and aunt after they were told that Declan had not turned up for immunisations at the GP's surgery and was going to be reported missing.
After hearing this, the three went to the house and discovered the child.
They immediately contacted police and an investigation was launched.
At Declan's funeral Hainey had a wreath with "Mummy's little angel" put on his coffin.
Police said it was one of the most distressing cases they have had to deal with.
Det Insp Maxine Martin said: "I doubt that anyone involved in the investigation, or anyone who heard or read anything about the circumstances through the media, will have come across anything quite as harrowing or distressing as this.
"You cannot begin to comprehend Declan's suffering, nor can you begin to understand how a mother could have done this to their innocent, helpless child."
She said the verdict had ensured that justice had been served.
She added: "I hope that it can be some comfort to the family of that little boy who was denied a chance of life by the very person who should have been protecting him the most."