A83 Rest and Be Thankful road closed again at night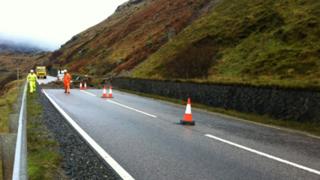 High winds have frustrated hopes of reopening the A83 in Argyll in darkness hours, following an earlier landslip.
The poor weather meant it was not possible to install floodlights to assist the monitoring of the route at the Rest and Be Thankful.
The road reopened during daylight hours on 3 December, after work to clear debris that fell down the hillside.
Transport Scotland said it hoped the road would open again fully at 08:30 on Wednesday.
A spokeswoman said the high winds and driving rain had forced it to close the road to all but emergency vehicles.
A lengthy diversion was in place, directing traffic on to the A819 and A85/A82.
She said: "The lighting would allow our team on the ground to monitor the road during darkness and provide an additional layer of comfort to make the road as safe as possible.
"We can only apologise once again to the local communities affected. We do appreciate the need for them to go about their business, but the decision has not been taken lightly.
"As we have said in recent days - safety is paramount in everything we do and our key focus is always be to ensure the safety of road users."
The agency remained hopeful the road would be open during darkness from Wednesday evening.
The Rest and Be Thankful, in Argyll and Bute, has been affected by landslides three times in four years.
The most recent slippage occurred after a period of heavy rain.
About a quarter of the area's average monthly rainfall had fallen in the preceding 48 hours.