Barry Hughes and wife in pre-trial publicity claim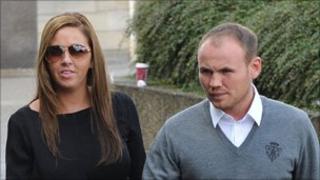 Boxing promoter Barry Hughes and his wife Jacqueline are claiming pre-trial publicity could hinder their mortgage fraud trial.
At Glasgow Sheriff Court, lawyers were due to have a legal debate about the impact of pre-trial publicity on the case which is adjourned until February.
The Hughes' lawyers were granted a motion to adjourn until January.
Mr Hughes, 32, and his wife, 35, from Renfrewshire, deny lying about income on mortgage applications.
They also deny several charges under the Proceeds of Crime Act of profiting from the sale of the properties.
Mr and Mrs Hughes, who will be tried in February 2012, appeared in the dock together on Friday for a procedural hearing on the case.
Sheriff Charles McFarlane QC granted the motion to adjourn and allowed the case to be continued until January.