Rangers settles Donald McIntyre cash claim out of court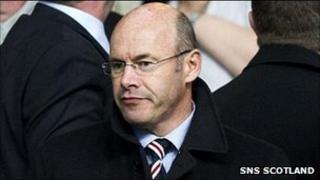 Rangers FC has reached an out-of-court settlement with former finance director Donald McIntyre, who was suing the club over alleged breach of contract.
Mr McIntyre won a legal bid in October to have £300,000 of the club's assets frozen pending the outcome of his case.
When the matter called again at the Court of Session in Edinburgh, judge Lord Hodge was told that both parties had reached agreement.
The terms of the settlement of the action were not disclosed.
Mr McIntyre, 52, was suspended from his position, along with club's then chief executive Martin Bain, in May.
Boardroom changes
The boardroom changes, following the successful takeover of Rangers by Craig Whyte weeks earlier, also saw the removal of chairman Alastair Johnston and director Paul Murray.
Mr Bain resigned in June and later launched a £1.3m damages claim for alleged breach of contract.
Mr McIntyre resigned in October and lodged a similar action, claiming £300,000 in damages.
At the beginning of his case, Mr Bain had £480,000 of Rangers assets frozen after a judge agreed there was "real and substantial risk of insolvency".
This related to a tax bill plus penalties, totalling £49m, which Rangers is disputing with HM Revenue and Customs.
Mr McIntyre was also successful in having £300,000 of the club's assets frozen pending the outcome of his case.
During a brief preliminary hearing at the Court of Session on Friday, Mr McIntyre's counsel, Jonathan Brown, told Lord Hodge: "I am pleased to say parties have reached, somewhat surprisingly, an agreement."
Mr Brown asked the judge for a continuation in the action and explained: "There are certain documentary requirements of a settlement of this nature that have to be thrashed out.
"It is just not feasible to get that document worked out this morning."
Lord Hodge agreed to a continuation for a week but said that if the parties lodged a document settling the action ahead of it the hearing would be discharged.
Mr McIntyre, who was in court, declined to comment afterwards.