Reamonn Gormley killers jailed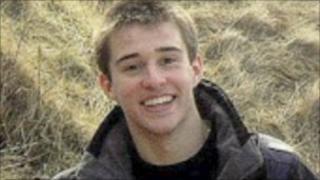 A man who murdered a student in an attempted street robbery has been jailed for a minimum of 19 years.
Daryn Maxwell, 23, stabbed Reamonn Gormley three times in Blantyre, South Lanarkshire, in February.
The 19-year-old died after Maxwell delivered a fatal blow to the neck which severed vital arteries.
Barry Smith, 19, helped plan the robbery. He was jailed for eight years and three months after pleading guilty to culpable homicide.
At the High Court in Perth, judge Lady Dorrian jailed Maxwell for life and told him he must spend at least 19 years in prison.
She said Maxwell, who had been released early from a previous sentence, had a predisposition to violence.
In her sentencing statement, Lady Dorrian said it was a "random and unprovoked attack".
Smith was detained for eight years and three months and told he would be subject to supervision for four years after release.
In a statement, Mr Gormley's family called the killers "evil" and said the trauma and grief that Maxwell and Smith had put them through could not be put into words.
They said he was an exceptional young man who was held in high regard and was an inspiration to others.
The family said: "We struggle to come to terms with the knowledge that a loving and kind young man who would, without a doubt, have made his mark in this world, and would have contributed to make a significant contribution to our society, is no longer with us - yet two individuals who have contributed nothing positive to society, but only spread fear and violence, will one day be free to walk our streets again."
During the trial at the High Court in Glasgow, the jury heard that Mr Gormley had been walking home with his friend David McFall after watching a football match on 1 February.
They were approached by the two men who came out of a flat, after deciding to "go and rob someone".
'Don't let me die'
Maxwell showed a knife to Mr Gormley and Smith showed a chisel to Mr McFall.
A "scuffle" occurred between Maxwell and Mr Gormley, who had refused to hand anything over. Maxwell stabbed Mr Gormley three times to the neck and body.
Smith, 19, had planned a robbery with Maxwell and had taken out a weapon, but did not stab Mr Gormley.
The wounds to Mr Gormley's neck cut his carotid artery resulting in extensive blood loss within a very short period of time.
The trial had been told of a desperate struggle to stem the bleeding and save the teenager's life, during which he said: "Please don't let me die."
Mr Gormley was taken to Hairmyres Hospital, in East Kilbride, where he was pronounced dead.
Maxwell and Smith were both on bail when they attacked Mr Gormley.
Sentencing had been delayed at an earlier hearing because social work reports had not been available.
A spokesman for the University of Glasgow, where Mr Gormley had been studying, said he was a friendly, popular young man.
"Reamonn will be sadly missed by his class mates and our thoughts and prayers are with his family and friends at this time," the spokesman added.