A83 Rest and Be Thankful reopens after landslip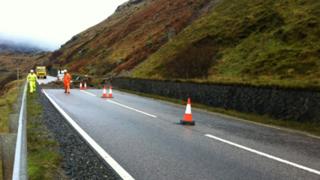 The A83 in Argyll has reopened during daylight hours following the landslide at the Rest and Be Thankful.
The road was closed after about 100 tonnes of the hillside slipped, with some debris falling onto the carriageway, at 07:00 on Thursday.
Transport Scotland said the road had been cleared but was being monitored.
The road reopened to traffic at about 08:30, and is to close again at 16:00. This arrangement will continue until Tuesday when it will be reviewed again.
At night a long diversion is in place which adds significantly to journeys times. It runs via the A83, A819, A85 and A82.
This is the third time in four years the Rest and Be Thankful, in Argyll and Bute, has been affected by a landslide.
It was closed for lengthy periods in 2007 and 2009.
The most recent slip follows several days of heavy rain across the country.
A Transport Scotland spokesman said: "Public safety remains our main priority and we appreciate the patience shown by those affected since the road closure yesterday.
"Detailed surveys on the slopes above the road have been carried out by geotechnical experts and additional safety mitigation measures are being put in place.
"Given the need to closely monitor hillside conditions, which can only be conducted during daylight hours, coupled with the Met Office forecast for rainfall and changeable conditions until Tuesday, road authority partners have concluded the A83 should open during daylight hours only, reverting to the diversions above during hours of dark."