Charity Nil By Mouth in bigot rehabilitation call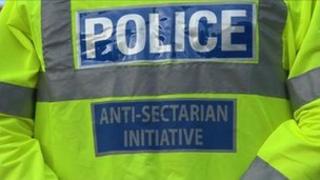 People convicted of sectarian offences should face a compulsory rehabilitation programme, according to a charity set up to tackle the problem.
The recommendation is part of a 13-point plan published by anti-sectarianism group Nil By Mouth.
It also wants dedicated awareness training for every school pupil and civil servant in Scotland by 2015.
The plan comes weeks before MSPs will be asked to back the controversial Offensive Behaviour at Football Bill.
Nil By Mouth said its action plan was aimed at tackling sectarianism at its root.
Research call
Other measures include a call for funds for supporters groups to develop their own projects.
The charity wants research into the link between Old Firm matches, domestic abuse and injuries to children.
Other calls include sectarianism awareness training for police officers and detailed annual reports on associated crimes.
Nil By Mouth was set up by Glasgow teenager Cara Henderson following the murder of her friend Mark Scott.
Campaign director Dave Scott said: "Last year saw record numbers of convictions for sectarian offences but we cannot simply arrest, or even spend, our way out of this problem.
"We must look at the root causes and prevent another generation fighting the battles of the past.
"Our plan focuses on education, intervention and rehabilitation and seeks to start a genuine nationwide debate on the issue.
"We want to challenge our government, parliament, employers, football fans, religious leaders and civic society to step up to the plate and play their part in defeating religious and cultural intolerance.
"From our building sites to our boardrooms, classrooms to courtrooms there can be no hiding place for sectarianism."
The Scottish government has proposed two new offences through its Offensive Behaviour at Football and Threatening Communications (Scotland) Bill.
The first offence targets sectarian and threatening behaviour at and around football matches which is deemed likely to cause public disorder.
The second offence relates to threats or serious harm which are intended to stir up religious hatred on the internet or other communications.
Those convicted under the legislation could spend as long as five years in prison and be banned from football grounds.