Investigation into Glasgow fire platform failure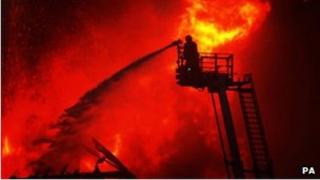 An investigation has been launched into the failure of a firefighting platform used to tackle a large blaze in Glasgow city centre on Monday.
It is understood that controls failed while a firefighter was 80ft above the ground tackling the blaze at disused warehouses in Morrison Street.
He climbed down emergency ladders on the platform and was given oxygen after suffering smoke inhalation.
The Fire Brigades Union said a second machine also failed at the incident.
At its height, more than 100 firefighters were involved in tackling the fire at the former Co-op Funeral Service building.
The blaze destroyed two of three buildings which make up the structure.
It has since been classed as dangerous and talks are ongoing with its owners about how to proceed.
Mechanical failures
The Fire Brigades Union (FBU) confirmed that the platform, called a Combined Aerial Rescue Pump (Carp), had suffered a malfunction during the operation to contain the blaze.
Roddy Robertson, a member of the FBU's Scottish Executive Council, said: "It was an extremely concerning incident that one and perhaps two of the Carp tenders failed at the incident.
"Our health and safety officer is looking at the reports of the incident, and we understand the brigade is also investigating.
"We have been concerned about these machines for some time, and now when they are deployed, specialists in the maintenance workshops are on standby."
Strathclyde Fire and Rescue Service confirmed that since being deployed in 2006, the platforms had been involved in almost 70,000 incidents and had assisted in the rescue of more than 4,000 members of the public.
A spokesman added: "With equipment that is used to such a degree, intermittent mechanical failures can be experienced. In the Morrison Street blaze, the firefighter involved was not injured and received oxygen treatment from paramedics at the scene purely as a precaution.
"The appliance involved in this incident is currently subject to an investigation and we are conducting this work jointly with our colleagues in the Fire Brigades Union."