Rangers confirms Craig Whyte had company director ban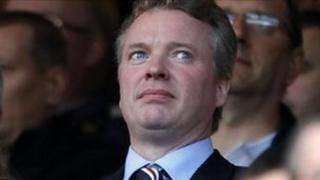 Rangers Football Club has confirmed its chairman and majority shareholder, Craig Whyte, was disqualified as a company director.
The club admitted Mr Whyte was disqualified for seven years, with the ban beginning 11 years ago.
The disqualification was revealed in a BBC Scotland documentary.
In a separate announcement, the club has revealed that its net debt for the most recent financial year was down from £27m to £14m.
Its turnover was also up by nearly £1m.
The disqualification announcement should have been made to the Plus stock exchange, on which Rangers shares are traded.
The figures are included in unaudited accounts published through the Plus exchange. They also show that net current liabilities have risen sharply, from £21.5m to £34.2m.
That appears to reflect the £49m tax bill which Rangers has been disputing through a tax tribunal procedure, and which could force the club into administration.
'Dark cloud'
Mr Whyte's statement, with the accounts, said turnover rose nearly £1m to £57.2m.
That was helped by extra income from European games, "although there was an overall reduction in season ticket sales, hospitality sales and sponsorship revenue".
Net operating expenses rose by £3.6m to £47.5m, reflecting higher salary levels, increased European and fixture costs and inflation.
Proceeds from the sale of players increased in the year to June 2011 from £512,000 to £4.2m.
And after making a pre-tax profit of £4.2m last year, that fell to only £76,000.
In his statement, Mr Whyte said that the tax bill had been "a dark cloud hanging over the club for far too long".
He went on: "Rangers has never been short of challenges in recent years and there is no question there are many challenges ahead for both the club and Scottish football in general".
The Rangers chairman stressed that the club was no longer reliant on bank funding, since he took over the £18m debt held by Bank of Scotland.
He paid tribute to his predecessor Sir David Murray, as majority shareholder, and to former manager Walter Smith, saying his recent achievements on the pitch were "extraordinary by any standard" and set the seal on "a truly remarkable managerial career".
"With any change in ownership, there will be a change in approach, and I firmly believe the changes I have implemented will be in the longer-term interest of the club, which must always come first," Mr Whyte added.