Baby Declan Hainey's body 'was mummified'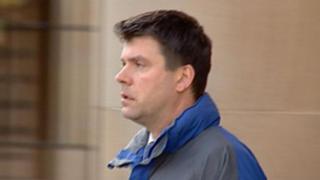 The body of a baby boy allegedly murdered by his mother was "mummified" when it was found, a court has heard.
Dr John Manlove, who was giving evidence at the trial of Kimberley Hainey, said her son's body could have lain in his cot for up to seven months.
He told the High Court in Glasgow, Declan was lying in his cot in a "state of partial mummification".
Ms Hainey, 37, of Johnstone, Paisley, denies murdering the child, concealing his body and pretending he was alive.
Entomologist Dr Manlove specialises in estimating how long someone has been dead from examining insects at the scene.
Declan's body was found at his home in Bruce Road on 30 March 2010, by members of Ms Hainey's family. He had last been seen in public in July 2009.
Dr Manlove told advocate depute Andrew Stewart QC that he was called in by Strathclyde Police to examine Declan's body in his cot the day after he was discovered.
He said: "I attended the scene to collect samples of insects to determine how long he had been in situ.
"When I examined the interior of the premises it was apparent Declan was lying in his cot in a state of partial mummification."
He told the jury that in his opinion the body had been there since autumn of 2009.
Dr Manlove added: "It's very difficult to be definite with this kind of estimate."
He told Mr Stewart he believed it had happened in early autumn.
Under cross examination by defence QC Edward Targowski, Dr Manlove was shown a report compiled by Dr Martin Hall of the Natural History Museum who said that death could have occurred before August 2009 and asked if he agreed with this.
He replied: "That may be so, but it's very difficult to be precise."
No electricity
In her evidence, pathologist Dr Julie McAdam said the cause of Declan's death was not clear.
She went to the house at 23:45 on 30 March last year with police officers.
She said: "There was no electricity in the flat. The flat was in a state of disarray. Plastic bottles and alcohol bottles were on the floor.
"I found the decomposing body of a child in a bedroom. The room was very untidy.
"The child was mummified. There was no sheet on the mattress. He was lying on his back, partly covered in a yellow towel.
"He was wearing a light-coloured babygro, unbuttoned, with his left leg out. A cellophane cigarette wrapper was between his knees."
The jury was shown a picture of Declan in his cot and judge Lord Woolman told them: "This is a potentially distressing photograph."
As Dr McAdam gave her evidence Ms Hainey sat in the dock weeping.
The pathologist then described how Declan was lying on the cot saying: "He was on his back. His left arm was by his side and his right arm slightly raised and bent at the elbow and his knees were bent."
The jury heard that a blue and white striped T-shirt and a white jacket were lying beside him in the cot.
Dr McAdam said that because of decomposition it was impossible to say when Declan died or to comment on his nutritional state.
Under cross-examination Dr McAdam said that X-rays and a CT scan of Declan revealed that he had not suffered any broken bones.
Drug results
The court heard that Declan's liver and hair were tested for drugs and alcohol but the results were negative.
Mr Targowski said to Dr McAdam: "It could be that Declan was put down to sleep and was dead the next morning and you could have come to the conclusion the cause of death was unascertained?"
Dr McAdam replied: "It could happen."
PC Donna McDougall told the court that after being detained Ms Hainey said: "I didn't deserve him. Nobody will believe me."
Ms Hainey, is accused of assaulting, willfully ill-treating and neglecting her son Declan over a 19-month period between 1 September 2008 and 30 March last year.
The Crown has charged her with either murdering her son or alternatively of neglecting him by failing to provide medical care for him whereby his physical and psychological development were impaired.
It is alleged that she left her son alone and unattended in the house for excessive periods of time, left him in wet and soiled nappies for excessive periods of time, caused him to be exposed to heroin and amphetamine, caused him to ingest these drugs and failed to provide medical aid and care for him.
The Crown also alleges that Ms Hainey pretended that Declan was alive in an attempt to defeat the ends of justice between 1 July 2009 and 31 March 2010.
She is also accused of possessing heroin and supplying heroin to Greg Irving in Renfrew, on various occasions between 25 December 2009 and 31 March last year.
She denies all the charges against her.
The trial before Lord Woolman continues.