Prison overcrowding 'needs to be fixed', MacAskill says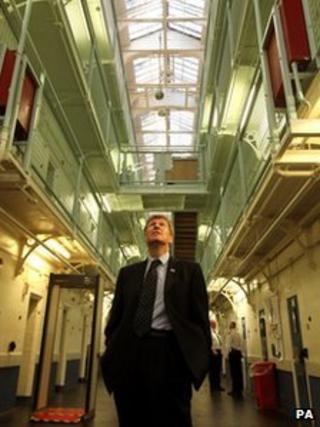 Justice Secretary Kenny MacAskill has said prisons should not be "routinely used for short-term prisoners".
Mr MacAskill was visiting HMP Barlinnie in Glasgow after an HMIP report, published last week, described it as "grossly overcrowded".
It was found to be more than 50% over capacity, with about 500 inmates more than it was designed for.
Mr MacAskill said he recognised the problems caused by overcrowding and said it needed to be fixed.
He said: "We've got a 35-year low in recorded crime - there is something going wrong when we see so many people ending up in prison, and that's a problem we have to fix.
"We are working with other partners, police, prisons, health, social work, to try to make sure that prisons are for people who have to be here because they are a danger to our communities or they have committed a crime where no other sentence is appropriate.
"We've got to make sure that prison isn't used routinely for short-term prisoners where it doesn't benefit them and it doesn't benefit us."
Derek McGill, governor of Barlinnie, said overcrowding at the prison led to "regime difficulties".
The justice secretary said there was not a single cause or solution to the problem.
He said there had been an increase in numbers of female offenders so he had asked Dame Elish Angiolini, the former Lord Advocate, to carry out an inquiry.
'Something wrong'
"We also have a huge increase in remand and yet what we know is that 50% of people remanded don't end up with a prison sentence," he said. "There's something going wrong there.
"Not everybody who's here has to be here. There are other ways in which they can be dealt with."
Last week's report by prisons inspector Brigadier Hugh Monro said certain buildings at the prison were risking the safety of both staff and prisoners and should be rebuilt "as a matter of priority".
He urged the Scottish Prison Service to review the long-term future of Barlinnie and implement its redevelopment "as soon as possible".
Mr MacAskill said Barlinnie has particular problems because of its age.
He said: "There's a limit to what you can do when it's an old Victorian prison. Clearly, new buildings like Low Moss or HMP Grampian will deal with matters much better."