Fyfe Ireland in unpaid debt claim against Rangers FC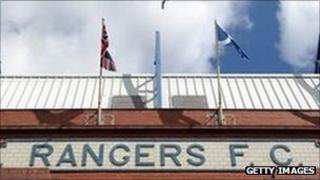 An Edinburgh law firm has become the latest company to raise court proceedings against Rangers FC over an alleged unpaid debt.
Fyfe Ireland solicitors said the action was over non payment of fees for legal services by the firm to the club.
The hearing is scheduled for Edinburgh Sheriff Court on Wednesday.
Earlier this month Rangers agreed an out-of-court settlement with pension advice firm Capita Trustees which had been suing over an unpaid bill.
Rangers has also faced other recent court action by creditors.
Tax bills
At the beginning of September, HM Revenue and Customs (HMRC) successfully ring-fenced £2.3m of the Ibrox club's assets over a disputed tax bill.
Rangers is also disputing a tax bill and penalties of £49m with HMRC at a tax tribunal which is set to run until next year.
On 9 September the club agreed to pay an outstanding £35,000 bill plus interest to law firm Levy & McRae.
This was over an unpaid bill for advice on how to deal with a Uefa charge relating to fans singing sectarian songs.
Four days later, Rangers' former chief executive Martin Bain successfully ring-fenced £480,000 of the Ibrox club's assets pending the outcome of a damages claim.
The judge in that case granted a warrant and noted there was a risk of insolvency if the £49m HMRC tax case went against Rangers.
Last month former director Donald McIntyre won a legal bid to have £300,000 of Rangers' assets frozen pending a breach of contract case.