Occupy Glasgow campaigners set up new protest camp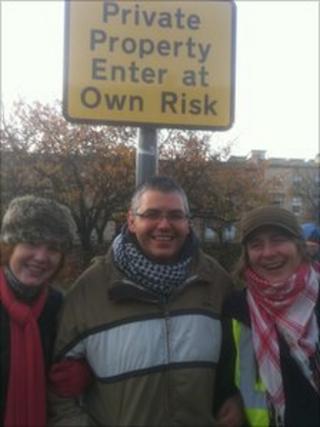 As authorities in London start eviction moves against St Paul's protesters, some members of Occupy Glasgow have left the camp on Kelvingrove Park which the city council established for them.
They've set up a "satellite camp" on private property in Blythswood Square.
In the dark, smoke from a small fire drifts across Blythswood Square in Glasgow.
A cluster of tents looks rather out of place in the city centre. As do some of the protesters, who are wearing high visibility jackets or vests.
Health and safety matters, it seems, even when you're on an occupation.
The kettle goes on. Rather apologetically, one of the campaigners offers me proper coffee from an Italian-style espresso maker, that's bubbling away on the gas ring.
Then Emma, Mark and Paddy pose gleefully under a sign warning that the square is "private property".
They'd been camping, with permission, at Kelvingrove Park after moving from a corner of George Square.
Glasgow City Council did the deal after making it clear that it was continuing with - and then won - a legal action against the protest. So why have some of them moved?
"A lot of people (in the camp) thought moving to Kelvingrove was a bad idea", Paddy explains.
"But it isn't a split. This is a station for us, to get a foot back in the town and engaging with the people we need to speak to. The people who are commuting to work, going to the banks."
The group say their new satellite camp is close to financial businesses, bank call centres, and lawyers and accountants involved in winding up businesses.
And the timing is deliberate, too. It's a response to moves by the authorities in the USA and in London against other occupation camps.
"Because of what's been happening at St Paul's and events in New York we're proving that, whilst they're trying to close down the movement elsewhere in the world, we can pop up anywhere", Mark says.
Glasgow City Council says as Blythswood Square is privately owned the move is not a breach of the deal it did with the occupation camp.
A council spokesman said: "We have done everything we can to balance their right to protest with the right of people to enjoy their city."
"It's wrong for a tiny, unrepresentative group to make life difficult for Glaswegians and we urge them to see sense."
The land the camp has been established on is jointly owned by all the businesses on the square.
A gardens committee which represents all the landowners is due to meet later to decide what, if anything, it can do about the protest.