Kimberley Hainey trial: Mum 'claimed' Declan was alive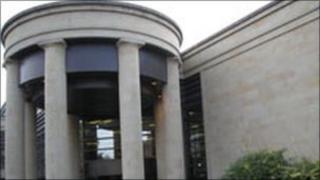 The trial of a woman charged with murdering her toddler son has heard she allegedly claimed he was at nursery - two days after his body was found.
James Breslin, 57, was giving evidence at the trial of his daughter Kimberley Hainey at the High Court in Glasgow.
He said the 37-year-old made the claim when he telephoned her after being told by police that the child was dead.
Ms Hainey, of Johnstone, Paisley, denies murdering Declan, concealing his body and pretending he was alive.
'Happy' mum
Mr Breslin, of Oxfordshire, recalled how he had first met his daughter when she was 17 or 18.
He was later told that Ms Hainey had given birth to her son Declan.
The witness said: "I believe Kimberley called to tell me. Kimberley seemed very happy to be a mum."
Prosecutor Andrew Stewart QC asked: "Did you speak to her after the birth of Declan?"
Mr Breslin replied: "She would update me on his progress, how she was enjoying having a son and how it had changed her life."
The trial had earlier heard how Declan's body was discovered at Ms Hainey's flat in Bruce Road, Paisley, on 30 March 2010, shortly before his second birthday.
Mr Breslin, who runs a building firm, said he discovered on 1 April that the child had died.
The 57 year-old said he managed to contact his daughter the same day.
'Serious mistake'
"I told her that the police had been in contact and that Declan had been found," he said.
"She said Declan was at the nursery. At that point, I thought that it was a serious mistake.
"I explained what the police had said and at that point she put the phone down."
Ms Hainey's QC Edward Targowski later questioned Mr Breslin on the phone call to the accused.
He asked: "You contacted your daughter and told her the information that the police said Declan had been found dead. Did you tell her that?"
Mr Breslin replied: "I was worried to tell her because, at that point, I thought there could be some mistake."
Ms Hainey is accused of assaulting, wilfully ill-treating and neglecting her son Declan over a 19-month period between September 2008 and March 2010.
The Crown has charged her with either murdering her son, or alternatively, of neglecting him by failing to provide medical care for him whereby his physical and psychological development were impaired.
Drugs charges
It is alleged that she left her son alone and unattended in the house for excessive periods of time, left him in wet and soiled nappies for excessive periods of time, caused him to be exposed to heroin and amphetamine, caused him to ingest these drugs and failed to provide medical aid and care for him.
The Crown also alleges that Ms Hainey pretended that Declan was alive in an attempt to defeat the ends of justice between July 2009 and March 2010.
Ms Hainey is also accused of possessing heroin and supplying the class A drug to a Renfrew man on various occasions between December 2009 and March 2010.
She denies all the charges against her.
The trial before judge Lord Woolman continues.