No apology from fire service over Alison Hume's death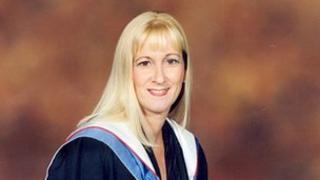 Scotland's largest fire service has not apologised for procedural failings which contributed to the death of a woman who fell down in a mineshaft.
Strathclyde Fire and Rescue said Alison Hume's death was "a source or enormous regret", but described the incident as "uniquely challenging and complex".
It took almost six hours to remove the 44-year-old from the mineshaft in Galston, East Ayrshire, in 2008.
A fatal accident inquiry said emergency services procedures were flawed.
Mrs Hume died in hospital after suffering a heart attack while being brought to the surface.
'Self justification'
The fatal accident inquiry into her death said there were "defects" in how her rescue was handled and she may have lived if she had been removed from the mineshaft sooner.
Sheriff Desmond Leslie expressly criticised senior commanders from Strathclyde Fire and Rescue in his findings.
He said: "I found the evidence of Group Commander Paul Stewart, and Group Commander William Thomson, to be focused on self justification for the action or non-action taken by them and was without any reflection as to the purposes of this inquiry and the lessons that may be learned from the rescue attempt."
"I found their evidence to be bullish, if not arrogant, in their determination to justify the subservience of the need to carry out a rescue to the need to fulfil to the letter Strathclyde Fire and Rescue Service policy."
Sheriff Leslie said for the rescue to be achieved "some imagination, flexibility, and adaptability were necessary".
He added: "I consider that the views expressed by Mr Stewart and Mr Thomson were of a fundamentalist adherence to Strathclyde Fire and Rescue Service policy. They rigidly stood by their operational guidelines.
"Their justifications for their actions were presented to the inquiry as their defence to any accusation of culpability in the death of Mrs Hume."
Speaking after the findings were published, fire service Assistant Chief Officer David Goodhew, said: "It is a source of enormous regret to everyone within the service that we were not able to rescue Alison Hume, and our thoughts and condolences are with her family today.
'Complex situation'
"As the Sheriff himself highlights, this was a uniquely challenging and complex situation. Every firefighter who attended this incident did so with one overriding objective - to bring Alison out of that shaft alive."
Mr Goodhew said crews at the scene decided not use a harness to bring Mrs Hume to the surface as "medical advice is that using such equipment could have put her life at extreme risk".
He added: "Specialist stretcher equipment to bring her up horizontally was seen as critical to any rescue attempt, and a decision was made to wait for police mountain rescue services to bring their equipment to the scene.
"Despite the efforts of all agencies at the scene, Alison is not alive today, and we will be studying this report in conjunction with our counterparts in the police, mines rescue and the ambulance services to bring the lessons learned to bear in future."
Mrs Hume's mother Margaret and stepfather Hugh Cowan said the family was "very pleased with the determination" but wanted a public inquiry.
Mr Cowan said: "The sheriff has taken on board all of the criticisms the family made about the way Alison's rescue was handled."
The couple said they had no criticism of the rank and file firefighters who were at the scene but were very critical of senior officers and the way the rescue was managed.
They said they were not calling for resignations, prosecutions or civil suits and stressed they were not surprised that the fire service had refused to apologise.
A spokeswoman for Strathclyde Police said: "The chief constable is in receipt of the determination.
"It is a very detailed determination and the chief constable is giving careful consideration to its terms, and in particular, to those aspects directed to Strathclyde Police."