Kimberley Hainey trial: Doctor 'concerns' over toddler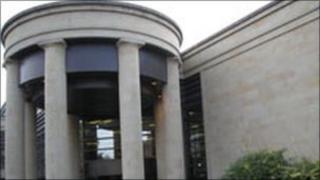 The trial of a woman charged with murdering her 23-month-old son has heard of concerns when a health visitor was unable to check the child.
Dr Daniel Brandon was giving evidence at the trial of Kimberley Hainey, 37, at the High Court in Glasgow.
He said a special meeting was called in March last year as there had been no contact with Declan for some time.
Ms Hainey of Johnstone, Paisley, denies murdering Declan, concealing his body and pretending he was alive.
Dr Brandon told advocate depute Andrew Stewart QC, prosecuting, that a meeting was called on 5 March last year at Love Street Medical Centre in Paisley.
Social services
The GP said: "The health visitor had been trying to make contact with Declan for some time.
"We agreed to arrange a meeting for the next Wednesday. If there was no contact we would refer the matter to social services."
The trial has heard that Declan was found dead in his cot at his home in Bruce Road, Paisley, on 30 March last year.
Dr Brandon told the court he last saw Declan in December 2008 when Ms Hainey brought him in for treatment for nappy rash.
The GP said he had treated Ms Hainey on her own on a number of occasions and was concerned because she was smelling of alcohol.
Dr Parag Patel, who is also based at the Love Street Medical Centre, was shown social work records relating to Declan by defence QC Edward Targowski.
Mr Targowski told the jury these showed that a social work organisation called Family Matters was involved with Ms Hainey and Declan.
He said: "These records show that Family Matters closed the case on Kimberley Hainey in August 2009."
'No concerns'
Dr Patel replied: "I heard that retrospectively."
Mr Targowski also asked: "These records say that Jill Stevenson who worked for Family Matters says she has no concerns."
Dr Patel replied: "That's correct."
The QC then said: "Jill Stevenson is saying she had no concerns about the welfare of the child."
Dr Patel said: "Yes."
Ms Hainey is accused of assaulting, wilfully ill-treating and neglecting her son Declan over a 19-month period between September 2008 and March 2010.
The Crown has charged her with either murdering her son, or alternatively, of neglecting him by failing to provide medical care for him whereby his physical and psychological development were impaired.
It is alleged that she left her son alone and unattended in the house for excessive periods of time, left him in wet and soiled nappies for excessive periods of time, caused him to be exposed to heroin and amphetamine, caused him to ingest these drugs and failed to provide medical aid and care for him.
The Crown also alleges that Ms Hainey pretended that Declan was alive in an attempt to defeat the ends of justice between July 2009 and March 2010.
Ms Hainey is also accused of possessing heroin and supplying the class A drug to a Renfrew man on various occasions between December 2009 and March 2010.
She denies all the charges against her.
The trial before judge Lord Woolman continues.