Study hails North Lanarkshire literacy scheme a success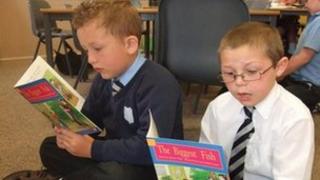 A scheme aimed at improving literacy among primary pupils in one of Scotland's largest education authorities is being rolled out across the region due to its success.
The Active Literacy programme was launched in North Lanarkshire in 2005.
Pupils taking part are encouraged to learn through group work and greater classroom interaction.
A study, in collaboration with Dundee University, showed 93% of P3 pupils scored above average in literacy tests.
The figures showed the pupils taking part in the programme, which is currently running in a random selection of schools in the area, were 20% ahead of pupils not on the scheme, where 72% scored above average in the tests.
The six-year evaluation of the North Lanarkshire initiative involved 1,000 pupils.
Researchers looked at how pupils on the Active Literacy programme performed in reading tests and compared it with children in a control group.
Their progress and development was tracked right through primary school, with particular focus on their reading comprehension and their understanding of whole texts rather than just a chapter or a section of a book.
Gender gap
The study results also suggested a narrowing of the traditional gender gap in education, with boys on the literacy scheme performing as well as their female classmates.
Nancy Ferguson, researcher and senior educational psychologist, said: "These results indicate that the initiative has not only significantly raised attainment in reading and writing, but that children who are taught using Active Literacy continue to outperform other pupils throughout their primary education.
"It is also interesting to note that the traditional gender gap between boys and girls has disappeared."
The scheme is a move away from traditional desk-based learning with an emphasis on working in pairs and groups, with children talking to their peers, teachers and parents about the books they are reading.
Teachers taking part receive training and support and are encouraged to spend more time engaging the class in discussion, and ask more open-ended questions.
Helen McLaughlin is head teacher at St Aloysius Primary School in Chapelhall, which takes part in the Active Reading programme. She said: "You hear so much criticism just now about young people who do not have the necessary literacy skills to carry on into adult life and into work life.
"What we are doing is equipping the children with those skills to take them forward, to give them the best possible chance that they can have as adults."
Vivienne Monnaghan, a parent at St Aloysius, added: "The impact on my son is that where he didn't have an interest in books at all before, now he has decided he really enjoys reading.
"He wants to pick up a book at home and read it himself. He has got much more confidence when he is doing it and his fluency has come on."
North Lanarkshire council now plans to introduce Active Literacy in all its schools and is looking at developing the scheme in its nurseries in the future.