Kimberley Hainey trial: Claim over 'lifeless' child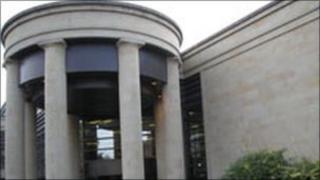 A neighbour of a woman accused of killing her 23-month-old son at a house in Renfrewshire has told a court she saw the child looking "lifeless".
Margaret Milton, 56, was giving evidence at the trial of Kimberley Hainey at the High Court in Glasgow.
Ms Hainey, 37, of Johnstone, Paisley, denies murdering Declan, concealing his body and pretending he was alive to prevent a police investigation.
The child's body was found on 30 March 2010, shortly before his birthday.
The jury heard how Ms Milton lived beside Ms Hainey in Bruce Road.
The witness said Declan had once been lying in his pram at her home in May 2009.
'Not moving'
Ms Milton told the High Court in Glasgow: "I thought he was awfully lifeless. He just lay there - he was not moving about much."
Prosecutor Andrew Stewart QC then asked: "What did you think about him being lifeless?"
She replied: "I just thought that he was tired actually."
Ms Milton said other children had been playing and Ms Hainey handed out Easter eggs.
The witness went on: "One of them was a Thornton's egg which had Declan's name on it. I asked did she not want to keep it, but she said that he had plenty of eggs."
Ms Hainey's QC Edward Targowski later claimed rather than appearing "lifeless", Declan had been "interacting" with the other youngsters and had been bouncing on a trampoline.
Ms Milton said this did not happen in her garden and that Declan was "just lying there".
Mr Targowski also asked the witness about the claim that Easter eggs had been given away.
'Nice thing'
The advocate said: "Even if it's got 'Declan' on it, there is nothing wrong with giving one away to a child who does not have one. It is quite a nice thing to do - that is what Kim was doing?"
Ms Milton replied: "Yes."
Ms Hainey is accused of assaulting, wilfully ill-treating and neglecting her son Declan over a 19-month period between September 2008 and March 2010.
The Crown has charged her with either murdering her son, or alternatively, of neglecting him by failing to provide medical care for him whereby his physical and psychological development were impaired.
It is alleged that she left her son alone and unattended in the house for excessive periods of time, left him in wet and soiled nappies for excessive periods of time, caused him to be exposed to heroin and amphetamine, caused him to ingest these drugs and failed to provide medical aid and care for him.
The Crown also alleges that Ms Hainey pretended that Declan was alive in an attempt to defeat the ends of justice between July 2009 and March 2010.
Ms Hainey is also accused of possessing heroin and supplying the class A drug to a Renfrew man on various occasions between December 2009 and March 2010.
She denies all the charges against her.
The trial before judge Lord Woolman continues.