Waverley steamer kept sailing by Euromillions winner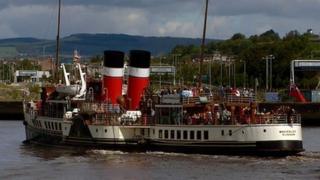 The Waverley Paddle Steamer is to be kept afloat for another year thanks to a donation from Euromillions winner Chris Weir.
Mrs Weir and her husband Colin, from Largs in Ayrshire, won £161m in July.
Increased running costs had meant last season could have been the final voyage for the Clyde-built Waverley.
An appeal for donations had raised more than £140,000, from donors all over Scotland, England and Wales, but operators need at least £350,000.
The Waverley is the only remaining sea-going paddle steamer in the world.
It carries thousands of passengers on pleasure cruises along the Firth of Clyde every year and is a popular attraction at ports around the UK.
Waverley Excursions Ltd said they were delighted the Weirs had pledged to help support the Waverley's 2012 season. The amount pledged by the couple has not been revealed.
The charity is now working towards securing the long-term operation of the ship.
Charlie Gordon, chairman of Waverley's development board, said: "The generosity of Chris and Colin Weir has been wonderful.
"In many ways it reflects the support we have received across the country, but to see philanthropists backing their communities in this way is great, and we can't thank them enough.
"What was most heartening was Chris's commitment to our vision of the Waverley being at the heart of the economic and cultural lives of the communities she serves."
However, Mr Gordon stressed that the Waverley was still vulnerable and a community partnership funding package was needed for the future.
He said the Waverley Appeal was still open.
The Waverley sails around Britain each year, offering regular trips on the Clyde, the Welsh coast, the Bristol Channel, the Thames and along the south coast of England.