Kimberley Hainey murder trial told of toddler body find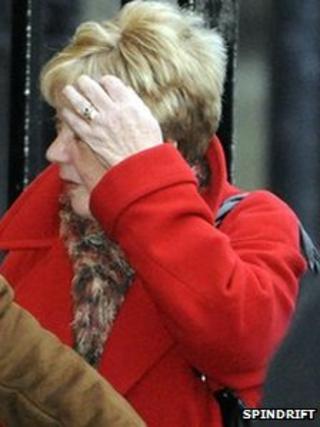 A grandmother has told a murder trial about the moment when her grandson's body was discovered.
Elizabeth Rodden, 56, was giving evidence for a second day at the trial of her daughter Kimberley Hainey.
The 37-year-old denies murdering her son Declan, concealing his body and pretending that he was still alive to prevent police investigating his death.
Mrs Rodden told the court that her husband found 23-month-old Declan's body in Ms Hainey's flat in Paisley.
The grandmother said she never saw the body.
Giving evidence at the High Court in Glasgow, she then broke down and, pointing at her daughter, shouted: "I never got the chance to say cheerio. May God forgive you."
In her earlier evidence, Mrs Rodden, a school cleaner from Renfrew, told the court that the last time she saw her grandson had been on his first birthday, 11 months prior to his body being found.
The court heard that the grandmother, her husband John Rodden and her sister Anna McNeilage went to Ms Hainey's home on 30 March last year, after receiving a phone call from social services.
Later Mr Rodden, a postman, also broke down as he told of finding his step-grandson lying dead in a house that looked like it had been ransacked.
He told the jury: "We chapped the door and there was no answer. I opened the door using a key. There was rubbish strewn down the stairs. I said to Elizabeth to stay outside."
The 56-year-old said he first of all went into the living room and kitchen and added: "It was indescribable. It was as if somebody had ransacked the house."
He then went into Declan's bedroom and added: "The place was a mess. I thought it was a doll lying in the cot. I touched him."
Mr Rodden then began sobbing as he continued: "I thought it was a doll, but it was Declan, it was Declan."
He said that he then dialled 999. He started the call but a neighbour had to take over to complete it.
Alternative charge
Earlier the toddler's grandmother was shown photographs of Declan with Santa Claus in December 2008 and pictures taken at his first birthday and at Halloween 2008, as well as one taken when he was around 15 months old.
Mrs Rodden kissed each of the pictures as she was handed them by a court official and wiped tears from her eyes.
Under cross-examination by defence QC Edward Targowski, Mrs Rodden agreed that her daughter had a breakdown after the death of an uncle whom she regarded as a father figure.
The jury heard that after his death Ms Hainey, who worked for Direct Line and was paying a mortgage on a flat, lost her job and her home.
She spent some time in Dykebar Hospital, Paisley, where she met the father of her child, David Gibson, and began taking drugs.
Mr Targowski asked Mrs Rodden: "Kimberley gave no indication there was anything wrong with her baby?" and she replied: "No, sir."
The QC then asked her: "She gave no indication her baby was dead and was talking about him as if he was alive, is that correct?" and Mrs Rodden said: "Yes."
The jury was told that Hainey scored highly on a test for potential post-natal depression.
Ms Hainey, from Johnstone, is accused of assaulting, willfully ill-treating and neglecting her son Declan over a 19-month period between September 2008 and March 2010.
The Crown has charged her with either murdering her son, or alternatively, of neglecting him by failing to provide medical care for him whereby his physical and psychological development were impaired.
It is alleged that she left her son alone and unattended in the house for excessive periods of time, left him in wet and soiled nappies for excessive periods of time, caused him to be exposed to heroin and amphetamine, caused him to ingest these drugs and failed to provide medical aid and care for him.
The Crown also alleges that Ms Hainey pretended that Declan was alive in an attempt to defeat the ends of justice between July 2009 and March 2010.
She denies all the charges against her.
The trial before judge Lord Woolman, which is expected to last about seven weeks, continues.