Dunoon pupils uncover 'first' WWI Christmas truce death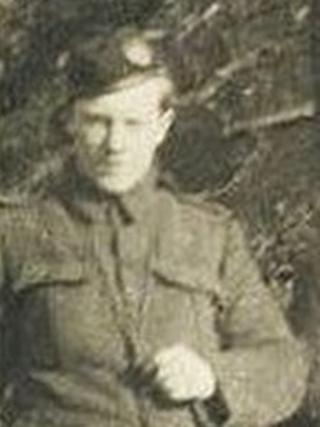 A school project may have identified the first fatality after the 1914 Christmas Day truce during World War I.
Students at Dunoon Grammar School researched the story of former pupil Walter Sinclair Smith for a Remembrance Day project.
They discovered he was killed by a German sniper late on Christmas Day after an accidentally-fired shot prompted a return to hostilities.
The school, in Argyll and Bute, now hopes to trace any living relatives.
The unofficial truce took place at several places across the Western Front around Christmas in 1914.
Soldiers from both sides ventured into "no man's land" to exchange gifts and play football.
Making film
The pupils chose to research the history of Walter Smith from those commemorated on a brass plaque at their school, because he shared his name with the former Scotland football manager.
At the time of the truce, the soldier was serving with the 5th Cameronians Scottish Rifles in the trenches near Armentieres.
Late in the afternoon of Christmas 1914, while troops from opposing sides were mingling, a shot rang out from the British lines, accidentally fired by a regular from the Scottish Rifles.
A German sniper returned fire, shooting Walter through the head.
The pupils will produce a short film telling the story of Walter and his brothers, to be performed at the school as part of the Remembrance Day commemorations.
Argyll and Bute councillor Bruce Marshall praised the pupils for providing a "valuable addition to our local history".
"It's incredible to be able to place this young local man at this key juncture in the war," he said.
"Finding out more about him and his family has been extremely important in helping pupils understand that the young men who went off to fight these wars were just like them, yet had to endure hardships which young people nowadays would find difficult to comprehend.
"I congratulate all those involved in this project, and look forward to seeing the film once it has been completed."
'Remarkable and tragic'
Sean McMahon has been chosen to play the part of Walter in the school production.
He said: "We have tried to get across that Walter and other ex-pupils like him are more than just names engraved on a brass plaque but real people who found themselves in the most terrible of events.
"It was amazing that Walter took part in the iconic Christmas truce of 1914, but heartbreaking how he was shot on Christmas Day itself."
The pupils have tried various routes to track down any of Walter's living relatives, including putting an advertisement in the local paper, but have so far drawn a blank.
Head teacher Stewart Shaw said: "I am very proud of the work of our young people in uncovering and retelling the story of our former pupil.
"The story of Walter Sinclair Smith is remarkable and tragic in equal measure. It is important as a school community that we do all we can to remember former pupils and staff who have fallen during conflict.
"Each name listed will have a similar story to Walter's and their sacrifice will never be forgotten.
"We are still hopeful that someone might come forward who is related to Walter in some way. It would be wonderful to have any living relatives with us as guests of honour when we give the film its first showing."