Councillors to decide on Hunterston coal power plant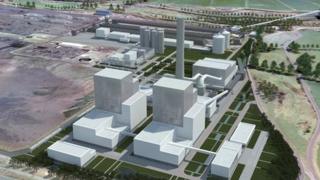 Councillors in North Ayrshire are due to decide later whether to support controversial proposals for a new coal-fired power station at Hunterston.
Officials have recommended the local authority rejects the plans, a move which would lead to a public inquiry.
Ayrshire Power wants to build a plant with experimental carbon capture and storage (CCS) technology at the site.
But environmental groups claim it would damage local wildlife and make climate change targets harder to achieve.
There have been more than 20,000 objections to the proposals.
Gas emissions
Ayrshire Power, which is owned by Peel Energy, has argued the coal-fired power station would represent a major economic opportunity for Scotland and would help fill a predicted shortfall in the UK's generating capacity.
The company plans to use CCS technology to minimise the station's greenhouse gas emissions and said it would be easier to develop this technology at a brand new facility.
Under CCS, emissions would be captured, compressed into a dense liquid-like state and transported by a pipeline or tanker to an offshore facility.
The liquified CO2 would then be injected into geological formations such as depleted oil and gas fields below the seabed.
This would all depend on the CCS technology being proven.
The energy firm also claimed the new power station would generate a "significant" number of jobs in the area, with up to 1,600 people being employed during construction and another 160 in permanent jobs when the power station was running.
Mike Claydon from Ayrshire Power said they were "disappointed" at the recommendation for the council to reject the proposal.
He told BBC Radio Scotland's Good Morning Scotland programme: "We are determined to progress our application through the planning process, even if that means that a public inquiry is required."
"Clearly we do believe this is a significant economic opportunity for Scotland and particularly for North Ayrshire. The investment would be over £3bn and whilst it would deliver 160 direct jobs, probably two to three times that of indirect jobs."
He added: "The downstream benefits of successfully demonstrating carbon capture and storage technology in Ayrshire are enormous, as that technology could then be deployed around the globe."
Planning framework
Environmental campaigners have said the proposals make a mockery of Scotland's climate change targets and have raised concerns that a new power station would damage public health.
Last month they lost a legal challenge against plans for the Hunterston facility.
A judicial review challenged a decision by the Scottish government to include the planned power station in the National Planning Framework.
Speaking ahead of the vote on the proposals, Dr Richard Dixon from WWF Scotland urged councillors to support the findings of council officials and reject the development.
He said: "From local wildlife and tourism impacts to climate change emissions, this is the wrong proposal in the wrong place."
Aedan Smith, from RSPB Scotland, added: "This meeting is a crucial milestone in our two-year campaign against this damaging proposal.
"About 21,000 people have now objected to the plans, more than any other application in Scottish history.
"This speaks volumes and is a clear sign to North Ayrshire councillors, Scottish ministers and the developers this project is not wanted or needed."
The recommendation from the council is expected after a meeting at 14:00.