Ex-boxer and woman jailed for murdering Martin Vaughn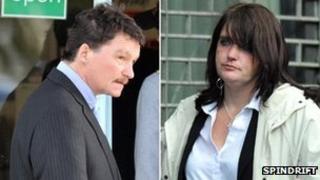 A 34-year-old woman and a former boxer she had only known for a few hours have each been jailed for a minimum of 14 years for the murder of her ex-partner.
Anthony Malloy, 51, and Laura Stewart were given life sentences after being convicted of beating Martin Vaughn to death in his Glasgow home.
The High Court in Glasgow heard Malloy, who boxed for Scotland in his teens, had not known 49-year-old Mr Vaughn.
In court Malloy and Stewart had accused each other of the murder.
The pair were found guilty of punching and kicking and stamping on Mr Vaughn and hitting him with a pole, a bottle and ornaments on 2 December last year, at his home in Govanhill.
Sentencing them, judge Lord Bracadale said: "Over a number of hours you joined in a very violent attack on Mr Vaughn. You took no steps to get him medical attention.
"Lisa Stewart you did this to a man who had been your former partner, although the relationship had been stormy. He did not deserve this.
"Anthony Malloy you did this to a man you had never seen before."
Blood spatter
The court heard Malloy and Stewart were strangers, who met by chance in the street just hours before the killing and she took him to visit Mr Vaughn.
Stewart had been in a volatile relationship with Mr Vaughn for a number of years.
Malloy claimed he fell asleep after smoking heroin and woke up to a bloodbath. He denied any assault on Mr Vaughn, apart from one punch.
Stewart denied murdering her former partner and claimed that the attack was carried out solely by Malloy.
But the court heard that just days before the murder she phoned Mr Vaughn's sister and told her: "He's getting done in."
Blood spatter from Mr Vaughn was found on Malloy's shirt sleeve.
The court heard that he had boxed for Scotland as an amateur in the late 1970s.
Mr Vaughn died from bleeding in the brain and suffered fractures to the bones in his throat and seven fractured ribs.
Defence QC Brian McConnachie, representing Stewart, said that she was hoping to attend anger management classes while in prison.
Lord Bracadale told the pair that it would be up to the parole board when they were released.