Kimberley Hainey toddler murder trial hears from mother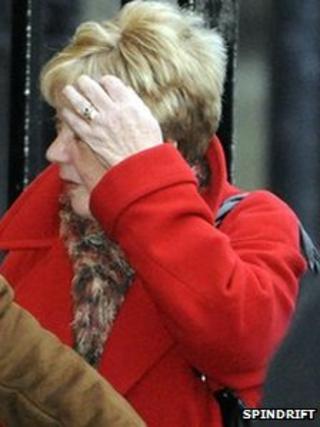 The grandmother of a toddler found dead in his home has told a murder trial that the last time she saw him was on his first birthday - 11 months earlier.
Elizabeth Rodden, 56, was giving evidence at the trial of her daughter Kimberley Hainey.
The 37-year-old denies murdering her son Declan, concealing his body and pretending that he was still alive to prevent police investigating his death.
The toddler was found dead in his cot at a house in Paisley in March 2010.
Mrs Rodden, a school cleaner from Renfrew, told advocate depute Andrew Stewart QC that Kimberley, who she calls Kim, and Declan lived with her and her husband John for about eight months after the birth.
She said: "She loved Declan. She was like an ideal mum."
As Mrs Rodden said this her daughter, who was sitting in the dock, broke down in tears.
Birthday party
The grandmother added: "I never had any concerns about Declan."
The court was told that Ms Hainey and her son moved to a house of their own around September 2008, and she would visit her mother with Declan.
Mrs Rodden said that they celebrated Declan's first Christmas as a family and spoke of having a birthday party for him.
She was asked how Declan was and replied: "He was lovely he was fine." When asked how her daughter was she added: "She was a bit drunk."
Mrs Rodden said that after Declan's first birthday on April 17, 2009, she never saw him again, but told the jury that Ms Hainey visited twice a week on her own.
She said: "She sometimes came in the mornings and sometimes in the afternoons. Kim told me her friend was watching Declan. She also said he was going to nursery."
The grandmother claimed that she had given her daughter money for gas, electricity and bills.
She also told the jury that she had bought items for Declan and had given Ms Hainey money to buy items.
Alternative charge
Mrs Rodden is due to continue giving evidence on Wednesday.
The jury was earlier shown pictures of the house, and of Declan, which judge Lord Woolman told jurors they might find distressing.
Senior scene examiner Derek Reid told of how he was called out to the property at 45 Bruce Road in Paisley on 30 March last year.
He said that there was no electricity in the house and the place was in darkness.
Mr Reid was shown photographs he had taken and asked about one in particular. He said: "That is the remains of Declan Hainey."
Ms Hainey, from Johnstone, is accused of assaulting, willfully ill-treating and neglecting her son Declan over a 19-month period between September 2008 and March 2010.
The Crown has charged her with either murdering her son, or alternatively, of neglecting him by failing to provide medical care for him whereby his physical and psychological development were impaired.
It is alleged that she left her son alone and unattended in the house for excessive periods of time, left him in wet and soiled nappies for excessive periods of time, caused him to be exposed to heroin and amphetamine, caused him to ingest these drugs and failed to provide medical aid and care for him.
The Crown also alleges that Ms Hainey pretended that Declan was alive in an attempt to defeat the ends of justice between July 2009 and March 2010.
She denies all the charges against her.
The trial before judge Lord Woolman continues.