Merrylee Primary nature play zone 'cuts accidents'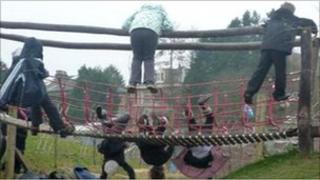 An "Urban Jungle" natural play area trialled at a Glasgow school has seen a reduction in accidents, it has been claimed.
Trees, hills, boulders and tunnels were installed in the playground of Merrylee Primary in 2009.
The £65,000 scheme was funded by Glasgow City Council and Forestry Commission Scotland.
A report suggested a marked decrease in pupil segregation and an increase in physical activity.
Over a two week period in 2009 there were 76 accidents, one incident of bullying and 53 other incidents, which include pushing, hitting and slipping.
A follow-up study in 2011 recorded six accidents and two cases of bullying. Both cases of bullying occurred when the natural play space was closed.
One P4 pupil said: "I really love it [the Urban Jungle] a lot. It is quite a bit better than the last one. If you fell over on the concrete it hurt but here it is soft grass."
One staff member told the report: "Children get on better when the Urban Jungle is open. There are less arguments and they complain to us less. There is less bickering and they play with each other better."
Liz Mahindru, head teacher at Merrylee, said: "The pupils drove the project and working with a parent landscape architect, their design aspiration became a reality."
She said the whole community had the chance to be part of something that could revolutionise the way our children play and interact with each other.
Hugh McNish, from the Commission's Central Scotland Conservancy said: "As an organisation, we are keen to promote the great outdoors to young people and to showcase the benefits and the fun that can be had by exploring them and enjoying what they have to offer.
"This play area was an ideal project for us."