Blueprint to boost Glasgow economy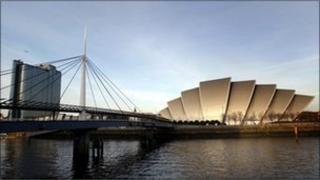 Experts have been appointed to steer a blueprint to develop Glasgow's economy over the next 10 years.
The Glasgow Economic Leadership Board will work on recommendations from a report into the city's prospects.
It will be chaired by Strathclyde University principal Prof Jim McDonald, along with members from industry and the Glasgow Chamber of Commerce.
The plan aims to boost engineering, low carbon projects, design, life sciences, financial services and tourism.
The strategy is based on the findings of the Glasgow Economic Commission, an independent group which issued a report earlier this year after a nine-month consultation with city businesses.
Success story
According to the report, Glasgow has a "bright future" based on the city's success in generating private sector employment since 2000.
It found that in this time Glasgow had generated more jobs than its main UK competitors Birmingham, Manchester and Leeds.
Glasgow City Council leader Gordon Matheson said: "Glasgow's economy has been a remarkable success story over the last decade with investment, growth and employment all rising faster than our competitor cities, and we clearly want that success to continue."
Prof McDonald said: "The Economic Commission identified major opportunities to grow Glasgow's economy and bring value to the city and its citizens. The next stage is to make these a reality."
Other board members include Benny Higgins, chief executive of Tesco Bank; Keith Cochrane, chief executive of the Weir Group; and Jim McColl, chairman and CEO of Clyde Blowers Capital.