Kimberley Hainey accused of murdering her son Declan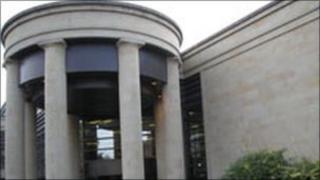 A woman has gone on trial accused of murdering her 23-month-old son at a house in Paisley, concealing his body and pretending he was alive.
Kimberley Hainey, 36, is also charged with assaulting and neglecting Declan between September 2008 and March 2010.
It is also alleged she left the child unattended in soiled nappies and caused him to ingest heroin and amphetamine.
At the High Court in Glasgow, Ms Hainey pleaded not guilty. The trial before judge Lord Woolman continues.
The Crown has charged Ms Hainey with either murdering her son or alternatively neglecting him by failing to provide medical care for him whereby his physical and psychological development were impaired.
Drugs charges
It is alleged that she left her son alone and unattended in the house for excessive periods of time, left him in wet and soiled nappies for excessive periods of time, caused him to be exposed to heroin and amphetamine, caused him to ingest these drugs and failed to provide medical aid and care for him.
A joint minute of agreement between the Crown and defence was read to the jury on Friday.
Crown junior Lorna Maclean told them: "A post-mortem examination of Declan Hainey was carried out at Yorkhill Hospital in Glasgow on 1 April, 2010. The cause of death was given as 'unascertained'."
The jury was also told that the body of baby Declan, who was born at the Royal Alexandra Hospital, Paisley, on 17 April 2008, was found dead in his cot at Bruce Road, Paisley, on 30 March 2010.
Ms Hainey is also charged with failing to inform the police or other authorities of Declan's death, concealing his body in the house at Bruce Road, and preventing people from entering the house.
It is also alleged that on numerous occasions she pretended that Declan was not with her, but was being looked after by a family member, a friend or was at nursery.
Benefits charge
It is claimed that she pretended to Elizabeth and John Rodden that she was going to take Declan on holiday with her and induced them to pay for his passport and then told them she could not take him on a break because he was too young.
Ms Hainey is said to have accepted toys, clothes and gifts for the boy in a bid to make people believe he was still alive, and failed to tell Her Majesty's Revenue and Customs that Declan had died enabling her to continue to receive child benefit.
The Crown alleges that she pretended that Declan was alive in an attempt to defeat the ends of justice between 1 July 2009 and 31 March 2010.
Ms Hainey is also accused of supplying heroin to a man at a house in Renfrew on various occasions between 25 December 2009 and 31 March last year.
She is also charged with having heroin in her possession at Bruce Road between 1 September 2008 and 31 March 2010.
Ms Hainey denies all allegations. The trial continues.