Suspended sentence for Scots student in Millbank demo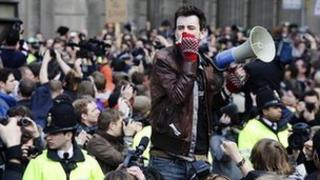 A student activist from Glasgow who took part in a protest at the Conservative Party's headquarters in London has avoided a jail sentence.
Bryan Simpson, 23, was among thousands who descended on Millbank Tower in November last year to vent their anger over tuition fees.
He was originally charged with violent disorder but plead guilty to affray.
A judge at Kingston Crown Court handed him a four month suspended sentence so he can continue his studies.
Judge Susan Tapping told him: "Your behaviour that day was utterly disgraceful.
"The protest was contaminated - no one remembers the student demonstration about fees, just the rioting."
She added: "Put this behind you and try and make something of your life."
Violent disturbances broke out during the march last year as protesters stormed the Tory building, with some making their way on to the roof.
Simpson, who is studying for a masters in human rights law at Strathclyde University, is said to have thrown a megaphone and removed a police medic's hat.
'Right to protest'
He spoke to the BBC Scotland News website before his sentencing.
He said: "Seven weeks ago I had to make the hardest decision of my personal and political life to plead guilty to something I do not regard as a crime.
"The way I and many others have been treated is indicative of the government clamp-down on the right to protest."
The law student was arrested a fortnight after the protest, following what he described as a "dawn raid" on his flat in Glasgow.
A campaign was set up in his name, defending the right to protest and was supported by human rights lawyer Aamer Anwar and George Galloway.
The court was shown CCTV footage of the protest in which Simpson is seen shouting and swearing at police officers.
Tony Ventham, defending, said Simpson had "strong views" about the tuition fees, as an active member of the NUS, and that his actions had been a "moment of madness".
The 23-year-old told BBC Scotland: "I will never regret being part of the occupation of Millbank. It gave confidence to millions that they could fight back and win."