Court move on Glasgow's George Square protest delayed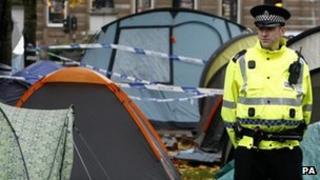 A court move to evict a group of anti-capitalists from their camp in Glasgow's George Square has been delayed.
The "Occupy Glasgow" protesters pitched their tents opposite the City Chambers on 15 October.
Legal action by Glasgow City council due to get underway has now been put off until Thursday.
The council said it wanted to resolve the issue ahead of Remembrance Day commemorations.
A letter of expulsion has already been issued, ordering the activists to leave.
Council spokesman Colin Edgar said: "George Square isn't a huge space - it's not the world's biggest civic square.
"It's very intensively used at this time of year, so next week we'll start to put in the Garden of Remembrance for Armistice Day.
"The week after that we actually celebrate Armistice Day itself and the Sunday after that we have Remembrance Sunday, when the square is absolutely packed."