Hamilton teacher Christine Emmett wins UK's top teacher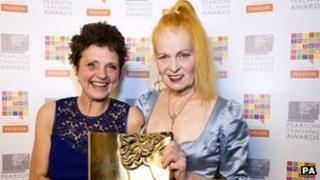 A teacher from South Lanarkshire has seen off 22,000 others to win the title UK Teacher of the Year.
Christine Emmett, from St Elizabeth's Primary School, Eddlewood, Hamilton, picked up the honour at the Pearson Awards ceremony in London.
Judges said she captivated pupils' interest "like a pied piper".
Mrs Emmett said her approach was to try to make school and learning as fun-filled as possible for the S5 and S6 pupils she teaches.
The teacher was nominated by a young boy in one of her classes.
'Makes us believe'
In his nomination, the pupil said: "Mrs Emmett helps us during lunch breaks and after school if we are struggling and gives our parents advice on how to help us.
"She makes us believe we can do something even if we don't think we can."
Mrs Emmett recently arranged for a local cake shop owner to come into the class to help children learn about weights and measurements while making cup cakes.
A salesman from a car showroom also visited to help pupils with a maths lesson. The businessman brought a Mercedes Benz and the children used a brochure to price their vehicle after selecting the model, interior finish, colour and wheels.
Mrs Emmett is in charge of the school's Eco Committee and Fairtrade events which have led to the school getting its fourth green flag this year.
In her 27 years as a teacher, she has has taught everything from Spanish to Gaelic.
Some of her lessons see pupils singing and acting out words in Spanish and playing with roulette wheels, darts and dice games in maths.
Judges said Mrs Emmett was the "golden thread" running through St Elizabeth's, and her teaching had the "wow factor".
Speaking to BBC Radio's Good Morning Scotland programme, Mrs Emmett described her approach to teaching young people.
"Care, love, support - just be there for them and work hard," she said.
"I always think that if I'm good they will be better.
"Just give them the confidence and get it over to them that some you win, some you lose. Just keep on going and don't be downhearted. Just make school as fun-filled as possible for them."