Three possible bone marrow matches for Glasgow boy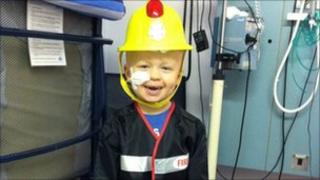 Three possible bone marrow matches have been found in a donor search for a three-year-old Glasgow boy diagnosed with leukaemia.
One match has been found in Germany and two in America for Ryan Ferguson.
More than 1,000 people turned out at a bone marrow appeal clinic in an effort to help Ryan, who was diagnosed with leukaemia in August.
Tests are being carried out to see if treatment can be carried with material from one of the potential donors.
Stuart Ferguson, Ryan's father, said it demonstrates the value of the Anthony Nolan register.
He said: ''We have three possible matches at present - two in America and one in Germany.
''If it wasn't for these wonderful people then what chance would Ryan have? How wonderful would it be to be given the chance to save someone's life?''
Anyone who did not attend the clinic can use the website www.anthonynolan.org to request a spit kit and join the register.
The clinic said 80% of bone marrow matches come from males who are aged between 18 and 30, yet only 12% of males are registered.
Mr Ferguson is urging men in this age range to register with the Anthony Nolan clinic.