Waterloo Road relocates to Greenock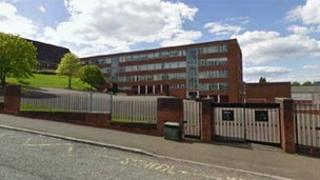 BBC One's award winning school drama series Waterloo Road is to re-locate from its current Rochdale base to Greenock in Inverclyde.
The move will see the former Greenock secondary become the new on-screen Waterloo Road school from next year.
Shed Productions make the popular drama, which is currently in its seventh series for BBC Scotland.
Inverclyde Council agreed to lease the former Greenock Academy building for the filming of the next two series.
Over the next two years the re-location is expected to provide a boost to the Scottish creative sector worth an estimated £20m, while up to 200 jobs could also be created.
The move is part of BBC's aim to increase network programming from Scotland and the other nations of the UK.
Shed Productions CEO Eileen Gallagher said: "Waterloo Road has had an incredibly happy six years in Rochdale working with one of the best TV crews in the country. But now we have outgrown our present site and we couldn't resist the BBC offer to take the show to Scotland.''
Inverclyde Council Leader Councillor Stephen McCabe said: "We have been working hard for the past four years to invest in our schools, leisure facilities and town centres to transform Inverclyde into a place to work, live and relax.
"Waterloo Road's relocation reflects how far we have come and what we have achieved."
Filming is expected to start in April 2012.