Search for new sponsor for Glasgow Comedy Festival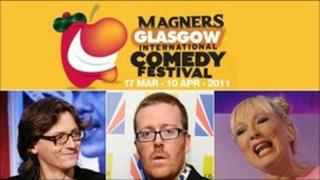 Organisers of the Glasgow International Comedy Festival are searching for a new sponsor after Magners decided to end a five-year association with the event.
The Irish cider maker said it was stepping aside having seen the festival go from strength-to-strength.
Festival organiser, the Scottish Comic Agency, said it was "very optimistic" about finding another partner.
The 10th anniversary of the comedy festival is scheduled to run next year from 15 March to 1 April.
Tommy Sheppard, director of the Scottish Comedy Agency, said: "We've had a ball with Magners over the last five years, but all good things come to an end.
"Since the festival started in 2003 the event has grown into a vital and important cultural brand, and we believe it will be an extremely attractive prospect for the UK business sector.
"We are very optimistic that we will find a new partner who shares our ambition to build on our position in the Scottish and UK cultural calendar still further as we celebrate our tenth anniversary event in 2012."