Glasgow Council orders anti-capitalist camp to disband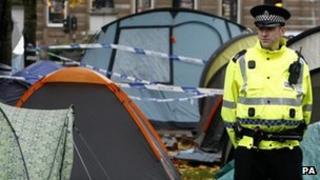 Anti-capitalist protesters have been ordered to leave a protest camp in Glasgow's George Square one day after a woman was raped at the site.
Glasgow City Council has issued a "letter of expulsion" to activists who set up tents there on 15 October.
It said the camp was illegal under park management rules and ordered the group to leave "with immediate effect".
A 28-year-old woman was raped in a tent in the camp in the early hours of Wednesday morning.
The council said the timing of the letter being issued was not connected to the rape.
'Illegal presence'
In a statement, the authority said: "We have explained to the protesters on many occasions that their presence in the square is illegal and that they should leave.
"This letter merely formalises that."
The protest is part of an "anti-greed movement" taking place around the world in solidarity with Occupy Wall Street, which began last month in New York's financial district.
Strathclyde Police is continuing investigations into the rape of the woman, which happened at about 00:45 on Wednesday.
Officers are looking for two men they believe are known to the victim.
The suspects are described as 20 to 30, both 6ft and of slim build. One had short, spiky blond hair and one had short dark hair.
In a statement, Occupy Glasgow said they "unequivocally condemn" the rape and are planning a vigil.
It said: "We take campers' security extremely seriously and have had a Safer Spaces Policy for the site since day one, and are continually addressing how best to carry it out.
"To further highlight these issues, we are calling for a solidarity vigil this Friday, at George Square, in place of the regularly scheduled general assembly.
"We urge everyone to attend this vigil to show that Glasgow does not tolerate violence against women or any form of hate crime."