Second World War veteran marks Scottish Poppy Appeal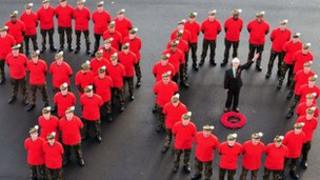 A Second World War veteran joined serving soldiers to mark the 90th anniversary of the Scottish Poppy Appeal.
The Royal Highland Fusiliers, 2nd Battalion the Royal Regiment of Scotland, formed a giant '90' shape at their barracks in Penicuik.
The charity said more money needs to be raised as it believes veterans will be needing more support in the future.
The Scottish Poppy Appeal raised £2.5m to support to veterans last year.
Ian McGregor, the charity's chief executive, said: "When the Scottish Poppy Appeal was created in 1921, no-one would have considered that 90 years on it would still be needed.
"Sadly, it is needed as much now as it ever was, with more and more veterans requiring a great deal of support to help them deal with often complex and multiple needs.
"That's why we are calling for the Scottish public to give as much as they can to the appeal to ensure that veterans and their families, and Scotland, will receive the help they need and deserve now and in the future."
William Walker, 90, from Edinburgh, was wounded while serving with the Royal Scots in Burma in 1943.
Mr Walker said: "I was just a lad when I was shot in World War II and it was a terrifying experience.
"The Scottish Poppy Appeal was there for our boys then and it is comforting to know that it is still here, helping the men and women who are coming back from Afghanistan today with terrible injuries.''
The appeal will run from October 27 to November 13.