Glasgow 2014 Commonwealth Games 'on track'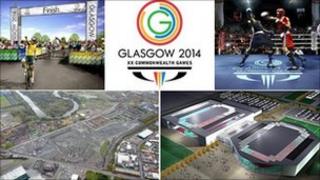 The 2014 Glasgow Commonwealth Games are "on track and on budget", according to a progress report.
The study also found that Scotland was already reaping economic and social benefits of hosting the international event.
The update marks 1,000 days to go until the opening ceremony, which will be held on 23 July 2014.
The Games Partners Progress Report said "good progress" was being made across all areas.
Work on accommodation and facilities for 6,500 athletes and officials got under way in June and the Sir Chris Hoy Velodrome in the east end of the city is said to be more than 60% complete.
The completion of the M74 extension and M80 upgrade also means there will be improved access to the city for spectators.
The report follows a visit by the Commonwealth Co-ordination Commission, which was "satisfied" with the strong partnership approach being taken by the Organising Committee and Games Partners.
The commission also said there was a "clear focus on generating value and legacy for the people of Glasgow and Scotland".
David Grevemberg, chief executive of Glasgow 2014, said: "This report highlights the commitment by all at Glasgow 2014 and our Games Partners to deliver - on time and on budget - an outstanding and memorable Games for Glasgow and Scotland.
"Whilst we are confident with the work and planning done so far, no-one at Glasgow 2014 is complacent about the task ahead as we enter the important detailed planning phase which will allow us to host a sporting event that will showcase Scotland at its very best on a global stage."
Shona Robison, minister for Commonwealth Games and sport, said: "Glasgow 2014 is fast approaching and the venues and infrastructure are taking shape.
"With 1,000 days to go, I'm pleased this latest progress report shows the Games remain on time, on budget and will provide a showcase for Scotland at its best.
"Already, across Scotland people are getting involved and feeling the excitement that the Games will bring but today we have launched our Games Legacy website, a one-stop shop for the public to access information on the range of legacy activity happening in their local community."
The Games will see 11 days of sporting competitions between 71 Commonwealth nations and territories.