The Euro crisis and a Glasgow shell-fishy business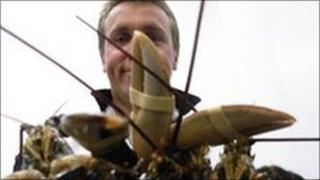 Prime Minister David Cameron says Britain has to play its full part in resolving the eurozone crisis. If your neighbour's house is on fire, he said, you help put out the flames. But will Scots businesses be badly burned if the situation isn't solved?
There are tiny flecks of langoustine shell in the car park outside Angelbond, in Port Dundas in Glasgow. And a faintly fishy smell surrounds the building.
Inside, Ronald Scordia slides open a huge heavy door that leads into a chilled room full of bubbling tanks.
Dozens, perhaps hundreds, of live prawns and shrimps are gently waving their claws, each one encased in a specially made corrugated tube. The packaging, and a constant cold temperature, means they can be transported for hundreds of miles but arrive more or less anywhere in Europe still alive.
"We buy in Campbeltown, Troon, Tarbert, Mallaig, Fraserburgh, the Hebrides, the Isle of Skye, Peterhead, and Pittenweem ... everywhere in Scotland", Ronald says.
Scared of Spain
"We sell a bit in the UK market. But not a lot. More or less all the products go abroad, to France and Italy.
"But we've stopped (selling in) the Spanish market, and the Portuguese market."
He explains the company, which has its head office in France, has taken that decision because it is "scared" customers in those countries might not be able to pay their bills.
"Our insurance company asked us at the beginning of the year to be very, very careful."
Turning down sales
That decision means having to turn down sales, even though there are wholesalers, supermarkets and restaurants in Spain and Portugal who are keen to buy.
"We have customers from Spain and Portugal looking for loads of products," Ronald says. "They phone us more or less every week. But we have to say no."
The company employs between 22 and 30 people round the year, depending on demand.
And, Ronald says, if the eurozone's economic crisis spreads those people would be without a job.