Firefighter death warning after crew attack in Airdrie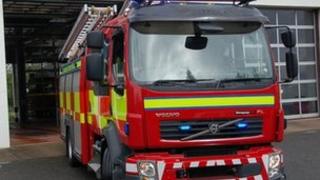 It is only a matter of time before a firefighter is seriously hurt or killed, according to a leading officer at Strathclyde Fire and Rescue.
The warning comes after a fire engine and crew came under attack from youths throwing stones as they tackled a blaze in Airdrie in North Lanarkshire.
The £250,000 appliance had to be taken out of service after being damaged in the incident.
It is the second attack of its kind in the area in less than a month.
The latest incident happened on Sunday night as an appliance from Coatbridge attended a fire in Hillfoot Road, Airdrie.
The rear window of the vehicle was smashed and the grille damaged.
Assistant Chief Officer David Goodhew said: "Firefighters risk their lives to protect the communities they serve, and it is despicable that a small, isolated minority of those very communities choose to attack them.
"These mindless attacks put firefighters in harm's way unnecessarily, and it's only a matter of time before a firefighter is badly injured, or even killed, in one of these incidents."
Higher risk
Strathclyde Fire and Rescue said it operated a "zero tolerance" policy to those who attack firefighters and would work closely with the police to identify anyone involved.
Mr Goodhew added: "Aside from the human cost of these attacks, there are wider consequences.
"Fire appliances cost around £250,000 each, and having these invaluable pieces of equipment put out of commission while being repaired after an act of vandalism puts the community at a whole at a higher risk from fire."
"Our message is simple; if you attack our crews, the authorities will find you, you will be prosecuted and you will feel the full force of the law."