Greenock Tall Ships 'boosts Scots economy by £24m'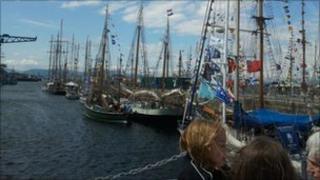 The Tall Ships event held in Greenock earlier this year generated £24m for the Scottish economy, an independent report has claimed.
The study, by Ekod Ltd, said the festival brought an extra £10.4m in revenue to Inverclyde, with a further £8.8m going to the west of Scotland.
The event, which attracted 750,000 visitors between 9-12 July, also brought £5.2m elsewhere in the country.
More than 50 vessels berthed along James Watt Dock during the festival.
The Ekos report found that average daily spend of day-trip visitors was between £17 and £24.
Visitor satisfaction
It said that with more than 20% of visitors staying overnight in the region, their daily spend increased to between £37 and £60.
The report also said the festival generated £12 of investment for every £1 of public sector spend.
This broke down to £5 within Inverclyde, £4 across the west of Scotland and almost £3 at a Scottish level.
The study reported that 97% of visitors had given the festival the highest possible rating.
Some 99% of visitors rated their visit to Scotland for The Tall Ships with the highest marks, and 90% of all visitors said they would return to the area if the event was held there again.
Councillor David Wilson, chairman of organiser Sail Inverclyde, said: "The Tall Ships was a huge success and has delivered a welcome cash injection to Inverclyde.
"Already there has been substantial interest from two multinationals and local groups to keep alive the iconic Sugar Sheds by developing it into an indoor arena due to its proximity to local travel links.
"So impressed were sailors with the James Watt Dock Marina since the Tall Ships event that it has been decided to increase the number of berths from 45 to 65 in order to receive even more visitors to the area."