Rangers fan MacMillan says Whyte claims 'disturbing'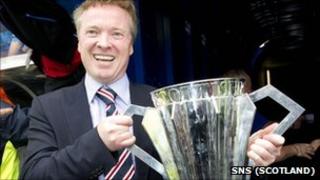 One of Rangers' highest profile fans said allegations about new club owner Craig Whyte carried in a BBC Scotland documentary were "quite disturbing".
John MacMillan, general secretary of the Rangers Supporters Association, said Mr Whyte was "duty bound" to make a statement to fans on the programme.
He said former owner Sir David Murray should address claims that Lloyds Bank forced through the Whyte deal.
Mr Whyte has threatened legal action over the documentary.
Speaking to the BBC Scotland news website, Mr MacMillan said: "We have to recognise that, at this point, these are allegations and if they are proven to be false then Craig Whyte will have recourse through the courts.
"If the allegations are genuine, however, then we have a very worrying situation indeed."
'Very disturbed'
Mr MacMillan described as "disturbing" the contribution from Robert Burns, the head of investigation and enforcement at the UK government Insolvency Service.
Mr Burns said his agency took the view that a company it had looked into was "being controlled, or certainly had the involvement of an individual (Mr Whyte) who was disqualified" from acting as a director.
Asked if Mr Whyte should make a statement addressing these allegations, Mr MacMillan said: "Without a shadow of a doubt".
"I think for clarification Craig Whyte is duty-bound to come out and make a statement to Rangers supporters," he said.
Mr MacMillan said he was "very disturbed" by allegations from former chairman Alistair Johnston that Lloyds Bank had threatened to cut Rangers' credit line if Craig Whyte's takeover of the club did not go ahead.
He said this concern extended to Mr Johnston's assertion that Sir David Murray sold the club to Mr Whyte against his advice.
Mr MacMillan said: "I don't know Alistair Johnston but he came over to me as a very honest guy.
"These things have to be answered and Sir David Murray should come out and make a statement."
The programme, Rangers: The Inside Story, was shown on Thursday night.
A spokesman for Mr Whyte said he "strenuously refutes" the "unfounded and defamatory allegations" aired in the programme and had instructed his lawyers to "commence immediate legal proceedings against the BBC".
A spokesman for BBC Scotland said the corporation stood by the investigation "which was produced according to our rigorous editorial standards on fairness, accuracy and impartiality".