Craig Whyte instructs legal action over BBC documentary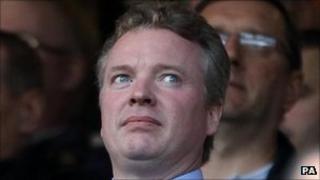 Rangers owner Craig Whyte has said he will take legal action over a BBC documentary which carried allegations of criminality in his past dealings.
The documentary heard from a government agency that he controlled a company despite being banned as a director.
The programme, Rangers: The Inside Story, was shown on Thursday night.
A spokesman for Mr Whyte said he "strenuously refutes" the "unfounded and defamatory allegations" allegations aired in the programme.
In a statement, the spokesman said: "Craig Whyte strenuously refutes these unfounded and defamatory allegations and has instructed his lawyers, Carter Ruck, to commence immediate legal proceedings against the BBC.
"Any repetition of these false accusations will also be met with legal action."
'Track record'
In response, a spokesman for BBC Scotland said: "We stand by the investigation which was produced according to our rigorous editorial standards on fairness, accuracy and impartiality.
"As the programme makes clear, Craig Whyte took the opportunity to respond to questions which were put to him during the course of the production."
Earlier, Mr Whyte told STV's Scotland Today programme that his business track record "speaks for itself" and he had done more successful deals than ones which did not work out.
Speaking before the BBC documentary aired, he said: "I'm sure the programme being made will make various allegations and it's maybe not going to be flattering about me.
"But I've got nothing to be ashamed of. We've got an organisation that's biased against Rangers and they're making a biased documentary and that's just the way it is."
Mr Whyte's comments came two days after Rangers broke off relations with the BBC in the run up to the programme.
BBC Scotland Investigates - Rangers: The Inside Story was broadcast on BBC1 Scotland at 19:00 on Thursday 20 October, and will be available for a week on the iPlayer.