Clarkston remembers 22 dead from 1971 gas explosion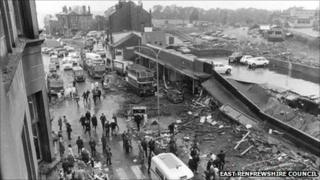 Events are being held this weekend to mark the 40th anniversary of the Clarkston gas explosion which killed 22 people and left more than 100 injured.
The blast flattened a row of shops in the town and impacted on a passing bus just before 15:00 on 21 October 1971.
It was described as the worst peace-time explosion in Scotland. An inquiry later found no-one was to blame
A flower laying ceremony will take place next to Clarkston Hall at 15:00 on Friday.
Family grief
This will be followed by a special service at Greenbank Church at 14:00 on Sunday.
East Renfrewshire Provost Alex Mackie said: "The Clarkston explosion took many lives from our community but it touched many more.
"The families and children who were left behind in their grief, the many people injured and the many more people who knew someone affected by it.
"We are joining with the local churches and community to remember the events of 40 years ago.
"It is a chance for all of us to pay our respects to those who lost their lives and those who lost loved ones."