Donald McIntyre has £300,000 of Rangers cash frozen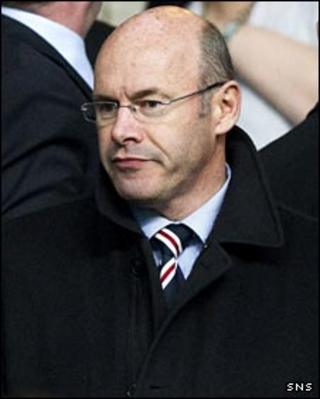 Former Rangers director Donald McIntyre has won his legal bid to have £300,000 of the club's assets frozen pending a breach of contract case.
At the Court of Session in Edinburgh, judge Lord Hodge granted the move brought by Mr McIntyre's lawyers.
The same judge last month ring-fenced £480,000 over a case by the Rangers' former chief executive Martin Bain.
Speaking after the hearing, Mr McIntyre said he was "sad at the current circumstances" at Rangers.
After a brief hearing, at which Rangers were not represented, Lord Hodge granted the order to freeze the funds.
The judge was told that Mr McIntyre had been "kept on the hook" following his five-month suspension at Rangers.
This came after the club's ownership was taken over from Sir David Murray by businessman Craig Whyte.
Lord Hodge had already ruled in the arrestment proceedings brought by Mr Bain that there was "a real and substantial risk" of insolvency at Rangers football club if a major tax case were decided against it.
Mr Bain has raised a £1.3m claim for damages against Rangers, alleging that the club repudiated his contract of employment.
HM Revenue and Customs has also had about £2.3m frozen in a tax dispute.
In a separate case the club also faces a disputed tax bill from HM Revenue and Customs (HMRC) for up to £49m. This is currently under appeal.
Mr McIntyre is also alleging breach of contract against Rangers and seeking £300,000.
Lord Hodge pointed out that the circumstances were broadly the same as in Mr Bain's case.
Mr McIntyre resigned as a director earlier this month after treating his contract as having been repudiated.
Professional status
His counsel, Stuart Buchanan, told the court that his contract provided for a £120,000 a year salary plus bonuses and other provisions.
Mr Buchanan said it was Mr McIntyre's position that there was not and never has been a basis for suspending him.
Lord Hodge asked Mr McIntyre's counsel: "Your position is that they have not in fact carried out the disciplinary procedures."
Mr Buchanan responded: "At all."
The counsel said Mr McIntyre had offered Rangers his co-operation throughout.
He said: "This is a professional man, a chartered accountant, who has been suspended as finance director who has made every effort to co-operate with Mr Whyte and every effort has been rebuffed."
Mr Buchanan added: "What is important to Mr McIntyre is the question of his reputation and his maintaining his professional status."
The judge told Mr McIntyre's lawyers: "It seems to me you have vouched his contractual entitlements and also made out a prima facie case in favour of the claim for damage to his reputation."
Mr McIntyre, 52, said: "I think Lord Hodge's decision speaks volumes as does the fact that Rangers did not turn up to defend the case.
"I am sad at the current circumstances at the club and I am concerned for the club."
On Monday, John Greig and John McClelland resigned from their posts as non-executive directors at Ibrox.