Internet bigot Stephen Birrell jailed for eight months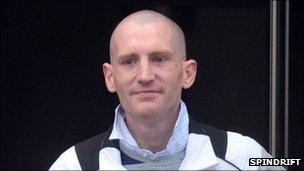 A man who posted sectarian comments on a Facebook page called "Neil Lennon Should be Banned" has been jailed for eight months.
Stephen Birrell, 28, from Glasgow, admitted posting the religiously prejudiced abuse earlier this year.
Sheriff Bill Totten said what Birrell had done was a hate crime which would not be tolerated by "the right thinking people of Glasgow and Scotland".
He said he wanted to send out "a clear message to deter others".
Glasgow Sheriff Court had previously heard how Birrell was caught after a police crackdown on sectarian internet campaigns.
A special team of officers began investigating hate comments after the so-called Old Firm "shame game" on 3 March.
Birrell posted sectarian comments about Catholics and Celtic fans between 28 February and 8 March, just days after being released early from a 12-month jail sentence.
On 1 March, two days before the Old Firm match, Birrell posted: "Hope they (Celtic fans) all die. Simple. Catholic scumbags ha ha."
On 4 March, the day after the game, he wrote: "Proud to hate Fenian tattie farmers. Simple ha ha."
Four days later Birrell posted: "They're all ploughing the fields the dirty scumbags."
He also posted abuse directed at the Pope.
Passing sentence, Sheriff Totten told Birrell: "I am satisfied that the nature of this offence, and in particular your previous record, means that I require to impose a prison sentence on you.
"I do want to make clear today that in selecting a prison sentence I also have in mind that the court should be sending out a clear message to deter others who might be tempted to behave in this way."
He also told Birrell that there was "no place in our modern society" for the use of the internet to spread or support abuse or to target people.
Birrell was banned from attending all regulated football matches in the UK for five years.
The postings made derogatory references to Celtic manager Neil Lennon and also included remarks about Catholicism.
Speaking following the sentencing, Lesley Thomson QC, the Solicitor General, said: "The Crown Office and Procurator Fiscal Service is absolutely determined to play its part in confronting the problems of sectarianism, religious offences and related disorder and violence.
"Whether the offences are at the football match itself, travelling to or from it, or as in this case online threatening communications, we will do all in our power to bring those who perpetrate such crimes to justice.
"Prosecutors will continue to prosecute anyone indulging in such behaviour which is completely unacceptable in modern Scotland."
At an earlier hearing defence solicitor John McLaughlin said: "These postings were distasteful and abusive. However, his postings did not contain threats or incitement to violence.
"There was no mention on them of Neil Lennon or the manager of Celtic."
Before sentence was passed it was said on Birrell's behalf he accepted that what he did was wrong.
Related Internet Links
The BBC is not responsible for the content of external sites.