The on-field history of Rangers Football Club 1873-2012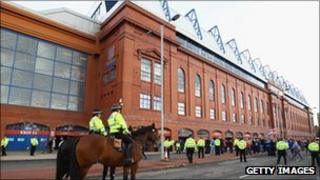 Rangers are Scotland's most successful football club and have won over 100 trophies during their 139-year history.
The club's origins date back to 1872 when Peter McNeil, his brother Moses, Peter Campbell and William McBeath formed their own team in Glasgow.
The name Rangers was adopted from an English rugby club and the first game, against Callander FC, ended 0-0.
The club's official beginning came to be recognised as 1873, when the first annual general meeting was held.
Four years later, Rangers reached their first ever Scottish Cup Final, losing 3-2 to Vale of Leven after two replays.
In 1888, the club's eventual great rivals, Celtic, were formed. Rangers lost their first ever derby game that year 5-2.
Landmark season
By the time of the first ever Scottish Football League season in 1890, Rangers had arrived at their current home of Ibrox, in the south east of Glasgow, via Burnbank and Kinning Park.
When the season finished the following year, it was a landmark for the young Glasgow club.
Rangers finished joint-top of the league with Dumbarton, and after a play-off ended 2-2, a decision was taken to share the title.
This was the only time the league had ever been split, but it marked the first senior honour for Rangers.
Three years later, the club recorded their first ever Scottish Cup win, beating Celtic 3-1 in the 1894 final.
Rangers won the trophy again in 1897 and 1898 with victories over Dumbarton and Kilmarnock.
1899 was another landmark year for the fledgling Glasgow giant, when William Wilton became the club's first manager.
By the end of the 19th century Rangers had won two league titles and three Scottish Cups.
When Wilton died in a boating accident in 1920, the Ibrox club had added seven more league titles to their haul.
He was succeeded by his deputy, Bill Struth, under whose guidance Rangers dominated the Scottish game up until the Second World War.
During Struth's 34 years as manager, Rangers won the league another 18 times, 14 of these coming before the war.
Struth dominance
This golden period - which also included the first ever Scottish domestic treble in 1948-49 - was to be unsurpassed until Rangers' dominance in the 1990s.
When Struth retired in 1954, he was followed by former Rangers player Scot Symon.
He was the first manager to take the club into European competition in 1957.
During his 13 years as manager, Rangers won six league titles and reached two European Cup Winners' Cup Finals in 1961 and 1967, losing out to Fiorentina and Bayern Munich.
He was sacked in 1967 after rejecting an offer to move to a general manager position.
Symon's deputy Davie White took over, but his reign was short lived and he was sacked in 1969 following a European Cup Winners' Cup defeat to Polish team Górnik Zabrze.
Whyte was, until then, the only Rangers manager never to have won a trophy.
The club's next manager Willie Waddell had an almost 50-year association with Rangers, having made his debut in a reserve game aged just 15.
Ibrox disaster
He never won a league title during his three years in charge but his reign covered perhaps the highest and lowest moments in Rangers' now long history.
On 2 January 1971, at the end of a game against Celtic, 66 Rangers fans were killed in a crush trying to leave the stadium.
Waddell, like all of Scottish football, was shocked at the loss, and led efforts to build the new all-seater Ibrox Stadium which is there today.
His finest hour as a manager came the following year, when he led Rangers to the European Cup Winners' Cup win with a 3-2 win over Dynamo Moscow in Barcelona.
Following the triumph, Waddell "moved upstairs" where he continued to serve at Ibrox in various board level roles until his death in 1992.
His successor, Jock Wallace, was the first man to be manager of Rangers twice.
During his first stint, between 1972 and 1978, Rangers regained the ascendancy in Scottish football.
In the club's centenary year, 1973, his first season in charge, Rangers won the Scottish Cup.
Under his guidance, Rangers finally ended Celtic's nine-year period of league dominance in 1975, winning the title for the first time since 1964.
Wallace's Rangers retained the title the following year on their way to the domestic treble - a feat he would repeat as manager during the 1977-1978 season.
His unexpected resignation soon after ushered in a decade of on-field under achievement for Rangers.
Wallace's second stint as Rangers manager, from 1983 until his sacking in 1986, saw the club win just two League Cups.
Greig years
The intervening five years, saw Rangers' former captain John Greig take charge of the club.
His five full seasons in charge saw Rangers win two League Cups and two Scottish Cups but the league campaigns were failures.
Greig's Rangers managed a second place finish during his first season in charge but that was the high water mark.
He was sacked in 1983 with the team limping in to a fourth place finish almost 20 point behind winners, Dundee United.
Following Jock Wallace's departure three years later, Rangers began their second golden period of domestic dominance.
Scotland international Graeme Souness was brought in as player-manager by then club owner Lawrence Malborough and chairman David Holmes.
In his first season in charge, Rangers, bolstered by a number of England international players, won the league title and League Cup.
He won the league two more times, in seasons 1988-89 and 1989-90 and two more League Cups in 1989 and 1991, before leaving to take up the manager's job at Liverpool.
Souness was followed in 1991 by his assistant, Walter Smith, who was given major financial backing from David Murray, who had bought the club from Marlborough in 1988.
Smith enjoyed two successful spells at the club, the first of which was one of almost unbroken domestic dominance.
Golden 1990s
During this first stint, Rangers won another seven league titles, which added to Souness' haul, meant Rangers had equalled the nine-in-a-row tally set by great rivals Celtic during the 1960s and 70s.
Smith also guided the Ibrox club to three Scottish Cups and three League Cups during this period, including a domestic treble in 1992-93.
He stepped down in 1998 to be replaced by Rangers' first ever foreign manager Dick Advocaat.
The Dutchman, like Smith, was given huge transfer budgets by Murray to achieve on-field success and delivered a domestic treble during his first season in charge.
A league and Scottish Cup double followed in his second season before he finished empty-handed to a treble-winning Celtic in 2000-2001.
He stepped down midway through the following season to be replaced by then Hibernian manager, Alex McLeish.
The former Aberdeen stalwart won the League and Scottish Cups and the domestic treble in his first full season in charge.
Rangers finished empty handed in 2003-2004 but won the league the following season in a dramatic last game climax.
McLeish's last season in charge (2005-06) was notable for Rangers reaching the knockout stages of the Champions League but following a poor run of domestic results it was agreed that he would leave.
Club owner Murray appointed his and Rangers' second foreign manager in summer 2006 - Frenchman Paul Le Guen.
With serious financial off-field problems having emerged during McLeish's reign, Le Guen was given little of the financial backing of his predecessors.
After a disastrous run of results, he departed under "mutual consent" in January 2007, to be replaced by Walter Smith in his second stint as Rangers manager.
With his deputy Ally McCoist, Smith guided Rangers to three consecutive league titles between 2009 and 2011.
He also won two Scottish Cup and three League Cups and took Rangers to the 2008 Uefa Cup Final which they lost to Zenit St Petersburg 2-0.
Smith stood down at the end of season 2010-11 to be replaced by Ally McCoist, who is the 13th man to manage Rangers in their 139-year history.